Posted on
April 19th, 2013
by Mary Lord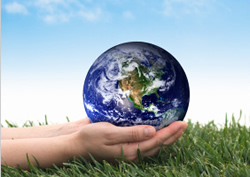 Kids love exploring the world around them, and Earth Day offers a great way to introduce them to environmental science and engineering. The following sampler includes activities, lessons, and resources ranging from starting a school-wide energy audit to "green" buildings, the science behind solar ovens, and sustainable design.
New! EPA's Earth Day 2013 guide to events and activities around the nation includes an April e-mail Earth tip of the day and photo uploads.
Engineering, Go For It Past Lessons:
Activities and Projects:
Citizen-Science Sites:
The Cool School Challenge, sponsored by the World Wildlife Fund and developed by a high school environmental educator, engages students and teachers in practical strategies to reduce carbon dioxide (CO2) and other greenhouse gas emissions school-wide. Schools that complete the Challenge automatically qualify for a bronze level award through the Eco-Schools USA program!
Earth: The Operator's Manual from PBS includes climate-change lessons, activities, videos of "Energy Heroes," and a step-by-step guide to cutting home or school energy use, including a carbon-footprint calculator.
Project Noah is a site for citizen-scientists (and curious kids) around the world to explore and document wildlife by uploading photos of beautiful, strange, or unknown creatures and finding out what they are.
Earth Day-themed newsletters, articles, and videos from our eGfi blogs:
Teachers' newsletters:

From our eGfi Students' blog:
Filed under: Grades 6-8, Grades 9-12, Grades K-5, Lesson Plans, Web Resources
Tags: Class Activities, Curriculum, Environmental Engineering, Environmental science, Internet Resources, Lesson Plan, Lesson Plans, Resources for Teachers, Teacher Resources, Videos, Web Resources