Posted on
April 21st, 2014
by Mary Lord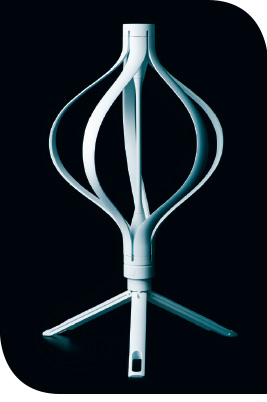 CHARGE IT!
One day, we may be lugging our own personal wind turbines.
International design company frog has unsheathed an umbrella-size, portable wind turbine called Revolver. It can generate 35 watts from a mere breeze, or enough juice to power a laptop, small light, or radio, or recharge a cellphone or other small electronic gadget. The Revolver, which won a 2012 Braun Prize for sustainable design, is housed in a slender tube. Push its outer layer upward, and out pop four curved, flexible blades made of silicone, and a tripod stand.
Why would anyone want one? Well, frog says, there are times when power for devices is hard to come by – on camping trips, say, or at outdoor music festivals. Also, as Hurricane Sandy forcefully demonstrated in the fall of 2012, power outages after storms can last for days or weeks. In that sort of situation, most folks would find that even a small amount of off-grid power is very handy.
This article by Thomas K. Grose originally appeared in the February 2013 First Look section of ASEE's Prism magazine.
WINDY CITIES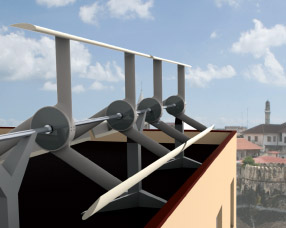 The winds that whip around urban buildings are rarely harvested by wind turbines and converted into electricity. One reason: aesthetics. Skylines skewered by wind turbine towers could be quite unsightly. Moreover, most turbines aren't efficient enough to merit installation. But Enatek, an Italian start-up based in Tuscany, has designed a building-integrated turbine that solves both problems. The Venturebine features three blades that rotate horizontally, somewhat like the turning blades on an old-fashioned manual lawn mower. The units — which weigh just 440 pounds each and are roughly 10 feet in length — can be placed end to end along a roofline, so they blend in more readily with their surroundings. Enatek engineers got help from the Universities of Florence and Prato. – TG
This article by Thomas K. Grose originally appeared in the October 2011 First Look section of ASEE's Prism magazine.
CLASSIC DESIGN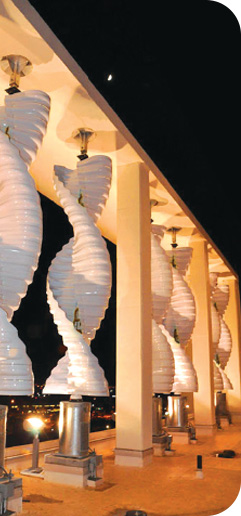 Venger Wind, a Nevada-based maker of small wind turbines, reached back to a 1922 design by Finnish engineer Sigurd Johannes Savonius as the basis for the 18 vertical axis turbines that together form the country's largest building-integrated wind farm. Erected on the roof of the Oklahoma Medical Research Foundation (OMRF) in Oklahoma City, the 18.5-foot DNA-shaped turbines are positioned in three parallel rows and can catch both northerly and southerly winds. Each produces 4.5 kilowatts of electricity, and the OMRF expects the turbines to generate 85,500 kilowatt-hours of energy a year — enough to power seven average-size houses. The turbines also should cut carbon emissions by around 2 million pounds a year and save the equivalent of 44,000 gallons of gasoline. Venger's V2 turbines start producing power at wind speeds of 8.9 mph — a breeze in windy Oklahoma City. – TG
This article by Thomas K. Grose first appeared in the October 2012 issue of ASEE's Prism magazine.
LOOK MA, NO TURBINE!

Wind turbines may have become much more efficient over the years, but most still are shaped like windmills. Now WinFlex, an Israeli company, has grabbed a GE Ecomagination Challenge prize for its design of a turbine that's inflatable – like a bicycle tire, which it resembles. The air-filled wheel is made from a light, flexible composite material, as are the clothlike spokes connecting it to the hub. WinFlex says the design will cut installation costs by half, and that it's more efficient and requires less maintenance than traditional turbines.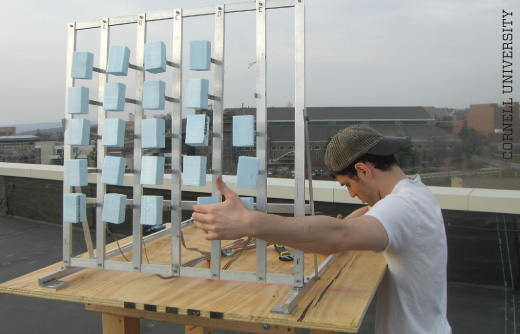 Meanwhile, Francis Moon, a professor of mechanical engineering at Cornell University, working with a team of undergraduate students, developed a wind-power device that is turbine free. (See photo, above.)  It's called Vibro-Wind and uses 25 foam pads that oscillate when the wind blows. Those vibrations are turned into electricity by piezoelectric transducers. Unlike turbines, they're fairly quiet, making them better suited for urban use. Moreover, unlike turbines, they pose no risk to birds, bats, and bees. They're also much less expensive to make and require less space than turbines. Looks like renewable energy is feeling the winds of change. – TG
This article by Thomas K. Grose first was published in the February 2011 issue of ASEE's Prism magazine.
Filed under: K-12 Outreach Programs, Special Features
Tags: Alternative Energy, Braun, Design, Sustainability, Technology, Wind Energy, wind power