Posted on
June 7th, 2010
by Jaimie Schock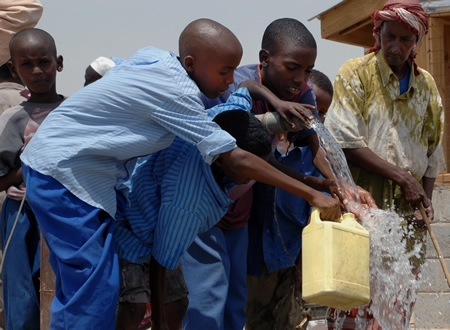 Three rivers run through Pittsburgh, so it is blessed with an abundance of potable water. But 3 billion people across the globe, nearly half the world's population, don't have ready access to fresh water. That was the lesson driven home to 550 high school students at a recent daylong tutorial sponsored by the World Affairs Council of Pittsburgh, the Pittsburgh Post-Gazette reports.
Some students attended the event at South Park High School. Others — including students from Brazil, Spain, Italy, and South Africa, as well as from other area schools — were patched in remotely via real-time video links. They heard from a variety of speakers, including an Alcoa executive in charge of the company's sustainability and environmental programs, and Timothy Mech, a professor at Grove City College who runs Deep Springs International, which works to bring safe water to Haiti. The students learned that water, essential to life, is in short supply not only in many arid parts of the world, but also in some underdeveloped countries that have water resources, but no distribution or filtration systems.
The students were asked to think of solutions. One South African student suggested cultivating genetically-engineered plants that require less water to grow, while a student from Spain said more efforts should be made to make desalination plants less costly. Cameron Elles, a senior from Pittsburgh's Montour High School — who plans to major in environmental science — came up with a small and simple, yet workable, solution, according to the newspaper: "I could take shorter showers," he said. It's a start.
Filed under: K-12 Education News
Tags: Clean Water, Public Policy, Water, Water management, Water Resources