Posted on
April 6th, 2018
by Mary Lord
Sensors are in everything from smart phones to corn fields. When used in hands-on environmental research projects, they also serve as an empowering and engaging way for students to develop a variety of interdisciplinary science, technology, engineering, and math skills.
SENSE IT, the Student Enabled Network of Sensors for the Environment using Innovative Technology, is a free, four-module curriculum that can be inserted into any standard STEM course (mathematics, chemistry, general science, physics, environmental science and computer science) while meeting national education standards. It grew out of National Science Foundation-funded research conducted by ASEE member Liesl Hotaling, then an educator in the University of South Florida's marine biology department. Her findings, published in the summer 2012 issue of Advances in Engineering Education, documented increases in academic performance of both whiz kids and struggling high school students who built and deployed sensors to monitor the health of their local river.
Students also gain confidence and technical skills learning how to solder and debug circuits, write programs to calibrate the sensors, and log results. Read more about the program HERE.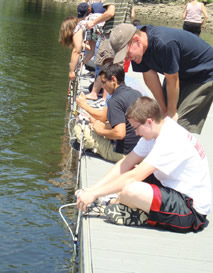 SENSE IT's four project-based modules challenge students to construct and deploy sensors and interpret data from their own sensor network for monitoring water quality. Each module – on sensor development, sensor deployment and data gathering, water quality investigation, and sharing data across observatories – requires three to five 45-minute class periods. Resources include links to the Hudson River Environmental Conditions Observing System data and lessons.
Click HERE for the SENSE IT curriculum.
Liesl Hotaling's research, SENSE IT: Teaching STEM to Middle and High School Students Through the Design, Construction, and Deployment of Water Quality Sensors, was published in the Summer 2012 Advances in Engineering Education. A one-page excerpt ran in ASEE's Prism magazine in summer 2013.
The Water Quality Project, Leaders High School, Brooklyn, NY

Filed under: Grades 6-8, Grades 9-12, K-12 Outreach Programs, Lesson Plans, Web Resources
Tags: circuits, Curriculum, data analysis, Environmental Engineering, Environmental science, Grades 6-8, Grades 9-12, integrated STEM, Internet Resources, iSTEM, Lesson Plan, Liesl Hotaling, SENSE IT, sensors, Teacher Resources, water quality, Web Resources