Posted on
April 11th, 2011
by Mary Lord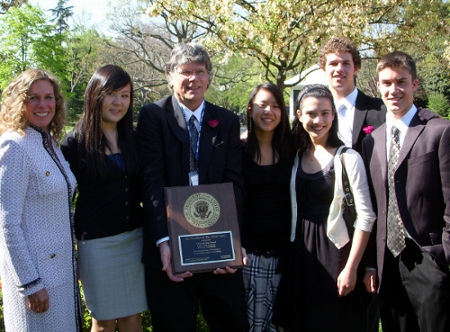 Mike Town and students in 2008 at the White House, where they received an environmental award.
Most educators have eureka moments. Unlike Mike Town, however, few get to see an idea that struck during a bike ride grow into a nationwide student-led movement to curb carbon dioxide output and cut school energy bills. Nor do many teachers create an environmental engineering and sustainable design course for non-academically inclined students that has spread to other districts, or taught an Advanced Placement environmental science class that attracts half the senior class and boasts a 92 percent pass rate on the exam, winning scholarships and White House honors.
How did green design take root without resources or even content standards? "Innovative teachers always run into problems — until they start achieving significant results and winning money," says Town, a 25-year veteran at Redmond (Wash.) High School serving as an Einstein Fellow at the National Science Board this year.
Money, in the form of earning a living, is what propelled Town into teaching environmental science in 1985. First, though, he had to go to college — a pursuit he'd never considered growing up in northeastern Ohio. "I was one of those proverbial shop kids," recalls Town, who anticipated a career in the steel mills or auto assembly plants upon graduation. At age 21, realizing the steel business was heading off shore, Town headed to Huxley College of the Environment in Washington, one of the earliest environmental science programs in the country. There he specialized in fire ecology and the interaction between pine beetles and Yellowstone's lodgepole pines.
To pay his way through school, Town held a variety of outdoor jobs, including working as a steel-mill machinist, in construction and at the United States Forest Service, that fed his interest in environmental education and sustainable design. Deciding he "really liked learning," Town went back to college to pursue a teaching career, earning a science education degree from Western Washington University and a master's of education from the University of Washington. He landed at Redmond High just as the report, "A Nation At Risk," was fueling debate about education reform.
That debate still rages. Town, however, has emerged as one of America's most innovative science teachers, winning numerous awards, including national environmental educator of the year.
Although he started out teaching traditional high school science classes, Town managed to break through the routine with a horticulture class he launched one spring. Hoping to reach kids who, like himself years earlier, lacked the confidence to even consider college, Town learned about career-technical education (CTE) and how well students learn when they tackle hands-on projects with real-world applications.
In 1988, he added a forestry ecology class that included examining the plight of the Spotted Owl in the Pacific Northwest. Town also worked with several other environmental science teachers, industry representatives, and an official in the state education office to write learning standards for a curse in environmental sustainability.
The introduction of AP Environmental Science in 1999 ago boosted student interest — as did Town's ramping up of the course's career focus to include alternative energy, wildlife management, sustainable engineering, and forestry. He had to strike a delicate balance, so the course wouldn't draw only physics and math whizzes. "I designed classes to have this relevance," explains Town, who realized the power of teaching sustainability through engineering skills.
The dual CTE-science credit helped attract what Town calls "wrench-turners, the kids who are really, really good with their hands and may not be great math students, but not because they're lazy, unmotivated, or stupid." Another big draw is getting to explore the "green" home, tricked out with energy-saving devices and other environment-friendly features, that Town and his wife, a science teacher, built near town. (Their home has been featured in books and Congressional floor debates.) Competitions also have helped whet appetites for engineering and environmental science. Says Town: "Contests are the greatest motivators that are out there."
Today, some 200 students — half the graduating class — take Town's environmental science and engineering design courses. All but a handful pass the AP environmental science test, roughly double the national average.
How Green is Your School?
Many teachers might have rested on those laurels. Town, however, has continued to expand ways of teaching kids about sustainability and engineering design. While out on a bike ride several years ago, for instance, he hit upon the idea of school energy audits while musing about how to engage his students in climate change. He still recalls the precise "million dollar money spot" where it dawned on him that across America, the local high school often was the biggest stationary source of carbon emissions in small town America. "What a great learning opportunity!" Town thought and pedaled back to enlist the local Sierra Club, clean-air authorities and power company as partners in a pilot project to audit Redmond High's energy use.
Rather than focus on saving money — 3 cents per hour turning off classroom lights seems trivial to students — Town had students calculate pounds of carbon saved by turning off lights, lowering thermostats, installing solar panels, and changes in behavior such as carpooling. Soon, Redmond High had trimmed 200,000 pounds from its "carbon footprint," reducing the district's annual utility bill by $30,000. "You advertise this small incentive and get this multiplier of goodness," marvels Town.
The savings didn't flow back to his school or program. No matter. Students in dozens of schools around the country are taking the "Cool School Challenge" and saving more than 2 million pounds of carbon. Meanwhile, Town's green team received the President's Environmental Youth Award at a White House ceremony hosted by then-President George W. Bush.
Currently pedaling around the nation's capital as an Einstein Fellow, Town has spent the past year studying science policy and thinking of ways to teach K-12 engineering and environmental sustainability on a broader scale. Educators shouldn't wait until college to introduce students to engineering, he says. Get them interested in middle school, he urges, because "that will start paying dividends." He also calls classroom teachers are one of the greatest sources of innovation and says that the country would get more bang for its bucks if the government created a small public-private partnership — like the MacArthur "genius" awards — to identify and fund novel teacher-initiated programs like the Cool School Challenge, bringing the best to national scale.
Meanwhile, Town has accumulated a "gigantic folder" of ideas that he plans to cull when he returns to Redmond High this summer, incorporating the "good stuff" into his revamped environmental engineering and sustainable design course. Take note of the new engineering emphasis, AP!
Filed under: Special Features
Tags: Environmental Engineering, Environmental science, Grades 9-12, Public Policy, Teachers