Posted on
April 6th, 2018
by Mary Lord
Boyan Slat discovered the problem of plastic pollution while diving in Greece during a high school vacation. "I came across more plastic bags than fish," he recalls in a wildly popular 2012 TED Talk.
Blat returned home and began researching solutions. Most of the ideas involved using nets to filter plastic from the water, but turtles and other sea life got trapped as well. He dropped out of college, where he was majoring in aerospace engineering, to devote himself to finding a better
way to clean up the Great Pacific Garbage Dump. Of some 300 companies he contacted seeking support, only one replied, calling it "a terrible idea."
The TED Talk proved a turning point for the teenager. Fame and funding for his novel idea for a microplastic-waste-trapping boom soon followed,  In 2014, Blat founded the Ocean Cleanup foundation to turn his invention into a reality. His foundation employs 70 people and has received $31.5 million in investment, including from such big-deal investors as PayPal cofounder Peter Thiel.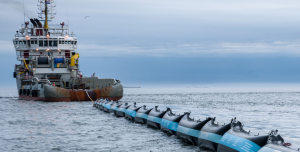 In 2018, six years after that fateful dive and following a two-year feasibility study, Slat, 23, is ready to deploy his floating dustpans – basically a line of massive (up to 1.2 miles long) booms designed to act like a mini-coastline, passively gathering plastic waste and pulling it to the center with the tug of wind and tide. A boat would collect the garbage every month or so.
A prototype, dubbed Boomy McBoomface, had a promising trial run in the North Sea, the Independent reports. And a 400-foot boom will soon deploy near San Francisco's Golden Gate Bridge. Next up: The Great Pacific Ocean Garbage Patch. Slat estimates his Ocean Cleanup rig will collect about 50 percent of the huge pool of pulverized plastic in just five years (his previous estimate was that he would be able to collect 42 percent of it over 10 years), reports MNN.
Slat used the engineering design process to improve on his original concept. Instead of attaching the booms to the ocean floor, they will be held in place by sea anchors floating deep below.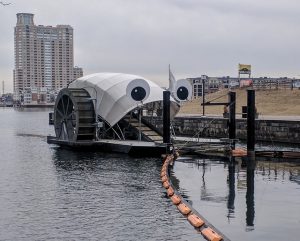 Meanwhile, in Baltimore, Md., Mr. Trash Wheel (photo, above) – the world's first solar- and hydro-powered trash interceptor – has been plying the Jones Falls river, trapping plastic before it reaches the scenic Inner Harbor and Chesapeake Bay, reports the Journal of Ocean Technology. The inventor, a local man named John Kellett, was tired of seeing trash flow into the Baltimore harbor during rainstorms. His solution: A 14-foot steel water wheel powered by the current of the river. Instead of powering a mill, however, the water wheel powers a rake and conveyor system that pulls floating litter -anything from a cigarette butt to a tree – and  from the river and deposits it into a dumpster barge. Mr. Trash Wheel also has an array of thirty solar panels to power pumps that pump water onto the wheel so that the machine can continue to operate even when the current of the river is slow.
Even if you're not an inventor, the average person can help tackle the ocean plastic problem. Plastic drinking straws are a top contributor to the 8 million tons of plastic waste that flows into the ocean each year, estimates the National Geographic. That has sparked campaigns to ban or tax them.
Other efforts focus on changing consumer behavior. The One Less Straw Pledge, founded by Carter and Olivia Ries back in 2009 when they were 8.5 and 7 years old, urges people to either forego plastic drinking straws or opt for reusable or paper versions. Reusable cloth shopping bags have proliferated in cities such as Washington, D.C., which taxes plastic grocery bags. Thirsty? Fill your reusable water bottle instead of reaching for the plastic. Check out the World Oceans Day (June 8, 2018) resources for tackling plastic pollution.
Then there are clean-up days. Every year, the U.S. Fish and Wildlife Service's Pacific Region (video, above) hauls tons of marine debris from the azure coastlines of Hawaii and various atolls, where it entangles and kills albatross, sea turtles, and other wildlife.
It may take a major shift in culture to halt the plastics problem where it starts: with people tossing trash upstream. Indonesia recently deployed troops to clean up a canal so clogged with plastic debris that it blocked a major tributary, the BBC reports. The coast where the canal disgorged its contents was in even worse shape, with old water bottles, plastic bags, and other junk stretching for hundreds of meters.
Even a sudden move toward widespread recycling may not affect the size of the Great Pacific Garbage Patch, however. Most of the plastic comes from abandoned fishing gear, reports the National Geographic.
Filed under: Special Features
Tags: Boyan Slat, clean up, Environmental Engineering, Great Pacific Garbage Patch, marine debris, Mr. Trash Wheel, Ocean Cleanup, ocean plastic, One Less Straw, Technology, US Fish and Wildlife Service, USFWS Pacific