Posted on
April 2nd, 2012
by Mary Lord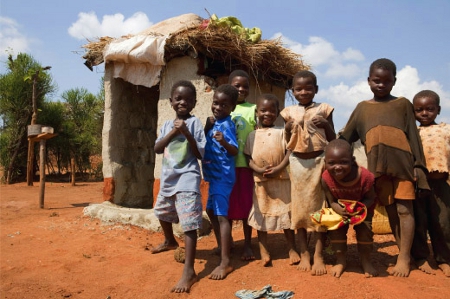 Engineering researchers who toil in the field of sanitation, especially sanitation for the world's poorest citizens, used to find that their field carried about as much cachet as a fly-ridden latrine. Not anymore.
In July, 2011, the Bill & Melinda Gates Foundation announced eight grants totaling $3 million for university engineering projects to "Reinvent the Toilet." The first round — for prototype development — will culminate in a Toilet Fair in Seattle this August and further grants to commercialize the most promising technology.
"Usually we battle to get master's students involved in sanitation," says chemical engineering lecturer Katherine Foxon of the University of KwaZulu-Natal in South Africa. "Now they come to us saying, 'Got any projects for me to do on Reinvent the Toilet? … Will I get to shake Bill Gates's hand?'"
LIFE-SAVING SANITATION
At stake is not the prestige of sanitation engineers but the health of the world's 2.6 billion people who have no hygienic sanitation. "Only about a third of the world's population have flush toilets linked to sewers," says Frank Rijsberman, director of the foundation's Water, Sanitation, and Hygiene program. More than a billion people defecate in the open. Others use latrines that attract disease-carrying flies and are sometimes emptied into alleys and waterways. More than a million children die of diarrhea every year, largely as a result of such problems.
The Bill & Melinda Gates Foundation's intro to the Reinvent the Toilet challenge. 1:31
[youtube]http://www.youtube.com/watch?v=fdwvuTrycYU[/youtube]
"We don't have a technology that you or I would choose to use today," Rijsberman adds. "We need something that doesn't yet exist."
More than a million children die annually from diarrhea – mostly because of poor sanitation.
Evaporate, combust, and gasify
"Reinvent the Latrine" might better capture the work taking place at the universities. None of the engineers involved is proposing technology to expand sewerage lines and connect billions of new flush toilets. Such systems are simply too expensive and wasteful. Chris Buckley, another KwaZulu-Natal chemical engineer, points out that the dry weight of the average person's feces is a mere 11 kilograms per year. Toilets demand 18 metric tons of water to transport those 11 kilograms, however, dispersing pathogens in 18,000 liters of water in the process. "Flush toilets are not a sensible idea," he concludes.
Instead, the eight engineering projects, from Switzerland to Singapore, propose to evaporate, combust, microwave, pyrolyze, and gasify human waste, creating useful end products in the process. Buckley, a jocular academic with a bushy gray beard, quips that the goal is to convert excrement into "drinking water, fertilizer, and salt for your fish and chips."
At Caltech, Michael Hoffmann has plans that make Buckley's hyperbole seem not so far-fetched. Hoffmann, a professor of environmental science recently elected to the National Academy of Engineering, and his research group are incorporating solar photovoltaics, hydrogen fuel cells, and semiconductors into a small-scale waste treatment reactor. The self-sustaining system is designed to create its own energy while destroying pathogens and producing fertilizer and sanitized water that can be recycled for flushing. One of the requirements of the Gates Foundation is that the toilet systems need neither plumbed water supply nor electricity from the grid.
Read Don Boroughs' full article, A Way With Waste, in the March 2012 issue of ASEE's Prism magazine.
Filed under: Special Features
Tags: Clean Water, Grand Challenges, Waste management, Water, Water management