Posted on
December 22nd, 2009
by Jaimie Schock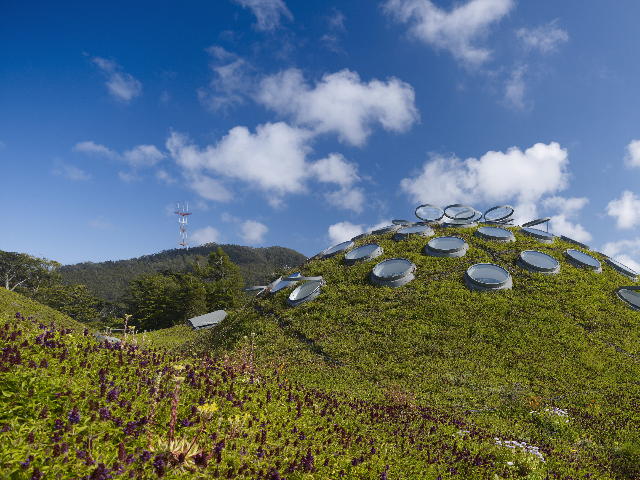 Oh, No! Students on the roof? Don't be alarmed. They're applying up-to-date techniques for energy savings, improved insulation, and water retention.
With a $5,000 grant from Project Learning Tree and help from an engineering company, a supervised team of eighth graders at Brownsburg East Middle School in Indiana has installed a "green roof," removing 8,000 pounds of river rock ballast from the surface and replacing it with 196 planting trays.
The vegetation will keep the building cooler in the summer and warmer in the winter, saving energy. But, the benefits don't stop there. Later this year, students not directly involved with the roof''s construction and care can join a program to learn more about its environmental advantages, the science behind it, and the engineering components.
The engineering firm Carlisle Roof Garden Systems was contracted by the school to upgrade its roof, but the Brownsburg students have been involved in every step of the process, from pitching the "green roof" idea to the school board to monitoring temperature changes and caring for the plants. Carlisle provided state-of-the-art technical information to help the students and teachers conduct the research and make many of the decisions. Skip Freas, the company's Building Owner's Services representative, also volunteered time and expertise with the installation.
Students have been enthusiastic. "To have 30 students give up a Saturday morning to help install this is great," says Ron Strahle, a sixth-grade social studies teacher involved with the project.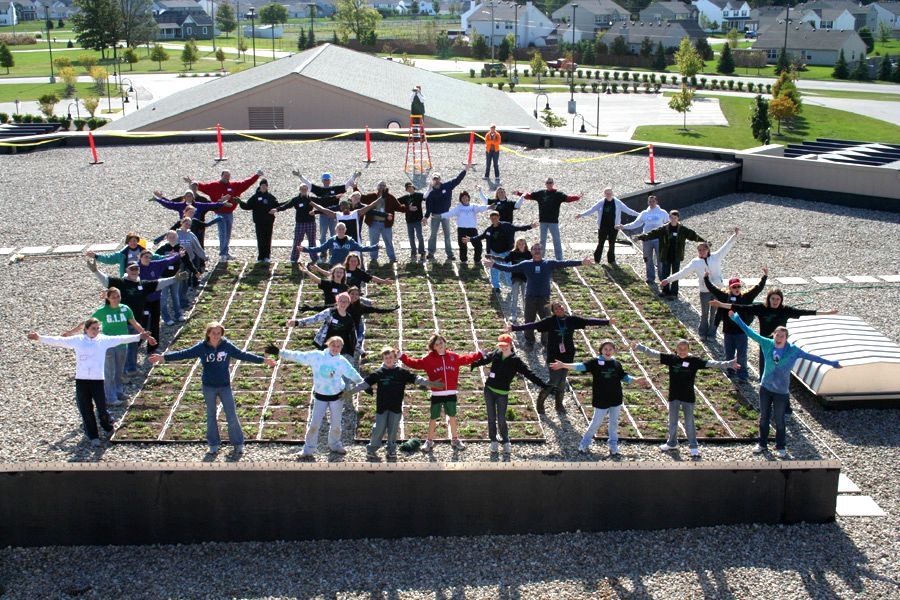 Brownsburg School students join a growing number of engineers, architects, students, and building owners across the globe who are planting vegetation and trees atop their buildings. A green roof can feature something as simple as grass a few inches deep in soil or "growing medium," the nutrient-rich, synthesized product often used in place of conventional soil. Or, it can be a complex system of trees, flowers, and other plant life built onto man-made slopes.
Green roofs provide a number of advantages. Besides lower utility bills, they can extend the life of a roof by limiting wear and tear from wind and weather, be used to cultivate fruits and vegetables, and muffle outside noise, like the roar of a jet. They filter pollutants from the air and filter and retain rain water, relieving overloaded city runoff pipes and curbing contamination of nearby waterways. They also provide a valuable habitat for wildlife, especially birds and insects.
The extra insulation can make a big difference. A roof installed at the American Society of Landscape Architects' building in Washington, D.C. has been found to be up to 32 degrees Fahrenheit cooler than nearby black-roofed buildings.
For schools, green roofs provide an excellent opportunity to learn about thermodynamics, the engineering of special materials, the chemistry involved in growing and planting, environmental conservation, and more.
The idea is not new. In Reston, Virginia, Terraset Elementary School has had a green roof since 1977. As part of the trend, Pine View School in Osprey, Florida is also building one.
The "Living Roof" atop the California Academy of the Sciences in San Francisco, pictured above, is an experience unto itself. Visitors have easy access to the 197,000-square-foot undulating rooftop, arrayed with 50,000 biodegradable containers of native plants, like strawberries and California poppies.
As more green roofs proliferate, the career field is expanding. Companies are producing special material to protect the roofs from root damage and to help plants flourish. Engineers are creating root barriers, growing medium, and drainage systems. Current students at Brownsburg East Middle School may one day find themselves once again up on the roof, part of a pioneering workforce of green specialists.
Teachers interested in introducing the creation or classroom study of green roofs might start by exploring the American Society of Landscape Architects' (ASLA) teacher guide and student workbook. Take a look, as well, at our eGFI green roof lesson plan.
California Academy of the Sciences Living Roof photo © Tim Griffith.
Brownsburg East Middle School roof and students photo courtesy of Ron Strahle.
Filed under: Special Features