Posted on
April 6th, 2018
by Mary Lord
The road to a greener future may start in northwest England's Cumbria county, where plastic litter is turning up in an unusual new place: street pavements.
In a trial run, a section of the A6 near Calthwaite was resurfaced with asphalt that incorporated a material made from recycled plastic developed by Scotland-based start-up MacRebur Plastics Road Company. The material, called MR6, acts like a superglue. When mixed with asphalt, its pellets create a more durable surface that also is cheaper to build than traditional roads. What's more, MR6 replaces the need to use bitumen, an oil-based substance that makes up roughly 10 percent of a road's total building materials, according to Inhabitat. (Rock, sand, and limestone constitute the rest.)
The company says roads constructed with MR6 are less likely prone to cracking and potholes, reducing maintenance costs. They also may reduce tire resistance, which could help improve fuel economy.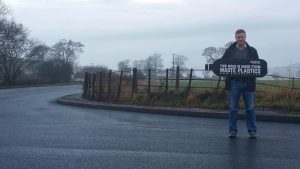 The first stretch of MR6-infused pavement road reportedly was the driveway of MacRebur's founding engineer, Toby McCartney – pictured above.
 Meanwhile, India has had success using plastic in repaving roads like Chennai's bustling Nungambakkam Street, which has withstood monsoon rains since 2002 without buckling, reports the
Guardian
. A University of Texas, Arlington civil engineer is
exploring ways
to use recycled soda bottles as pins to stabilize roads and reduce buckling and cracking. And the Dutch city of Rotterdam
plans
to be the first city to build roads from recycled ocean plastic in a LEGO-like plug-and-play system developed by VolkerWessels:
Filed under: Special Features
Tags: environmental protection, MacRebur, materials, ocean plastic, plastic roads, Recycling, VolkerWessels