Posted on
January 7th, 2018
by Mary Lord
Bronze bells inspire a merger of engineering and music.
When "The Victors" peals from the 55-bell carillon high inside the University of Michigan's Burton Tower, it's likely many students below can hum the famous fight song as they stroll. One group, though, also understands the engineering and skilled labor behind the resonant tones, having sculpted and poured metal to make carillon bells, used a computer program to pre-tune the bells, and worked with lathing equipment to finesse the shape and achieve a particular sound.
All these techniques were incorporated into the freshman course Shaping the Sound of Bronze. Team-taught by professors from engineering, music, art, and design, and cross-listed in several departments, it is one of a number of ways teachers have found to present engineering concepts through the arts.
Fashioning metal into music allows students to experience "a real die-hard design problem where effectively they have to work together in teams and get their hands dirty," says Gregory Wakefield, an associate professor in electrical engineering and computer science and one of the instructors who introduced the course in the fall of 2010. But Shaping the Sound offers more than hands-on harmony.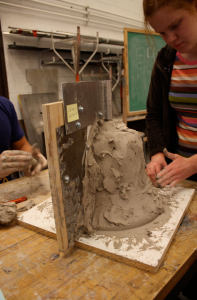 An expert in signal processing and the physics of sound, Wakefield is always looking for ways to hook engineering students into a deeper understanding of Fourier mathematics. "Being a musician myself, I gravitate toward examples from the audio world," he says. The course gives engineering students "a gut-level understanding of how this stuff works, so when they have to sit down and work the math problems, they have a better sense of why it matters."
Wakefield created a modeling program to help students understand how changing the shape of the bell would affect the sound. "Fourier allows us to mathematically represent the sound in a way that we tend to hear it – the punch line being that we could then work with the students to create synthesized versions of their bells," he says. Students could change the sound of their synthesized bells on the computer, in effect pre-tune them, and then go and physically remove the predicted amount of metal from the bell. "We are able to teach the students how objects make sounds, how resonance works, how if you push a shape in different ways, it's going to sound differently," says Wakefield. "It makes a lot of sense to them because they can relate it to what they are hearing. Fourier is a little abstract."
In the process of putting this unique course together, Wakefield not only introduced his students to Fourier, but he and his university colleagues essentially modeled for their students one vital goal for the class: learning to create and design in multidisciplinary teams that include artists, musicians, and engineers. In fact, the idea for the course came from music professor and university carillonneur Steven Ball, who wanted his own students to gain a much deeper understanding of the carillon. "It really requires all the students to cross-pollinate with the other two disciplines and remain sensitive to what the other two disciplines have to say about it," he says.
For engineering students, "there are wonderful things that artists and musicians can bring to the table in understanding how to design," adds Wakefield. In this course, students relied upon the expertise and well-trained ear of Ball to make sure the bells sounded great, and the strategies of art and design professor Lou Marinaro to make sure the bronze was poured correctly. They thus learned an important lesson in addressing customers' needs. "Ultimately the user will develop an affinity toward your product if it has been designed to meet their aesthetic tastes," Wakefield says.
Click HERE to read the full version of this article, written by Alice Daniel, which appeared in the December 2011 issue of the American Society for Engineering Education's Prism magazine.
Filed under: Special Features
Tags: Alice Daniel, Art, ASEE Prism magazine, bells, bronze, carillon, Engineering Design, engineering school, forge, makerspace, metallurgy, Shaping the sound of Bronze, STEAM, University of Michigan