Posted on
January 5th, 2018
by Mary Lord
Spend a day introducing a girl to engineering. Coach or mentor a Future City team. Make slime and other cool stuff.
DiscoverE's 67th annual Engineers Week is Feb. 18 – 24, 2017 and there are plenty of local events and hands-on activities – including Discover Engineering Family Fun Day at the National Building Museum in Washington, D.C., Feb. 17 – to raise awareness of what engineers do and how their work makes the world a healthier, safer place.
This year's theme is Engineers: Inspiring Wonder.  It dovetails on last year's Dream Big theme, which coincided with the premiere of DREAM BIG: Engineering Our World, a spectacular big-screen odyssey from classic Roman arches to village bridges, towering skyscrapers, and the International Space Station.
Want to participate but don't know how to start? Self-guided tutorials with PowerPoint slides and frequently asked questions help educators and volunteers lead kids through a successful engineering experience.
Now in its third year, Global Day on April  4 brings together the international community to give students around the world a chance to experience engineering.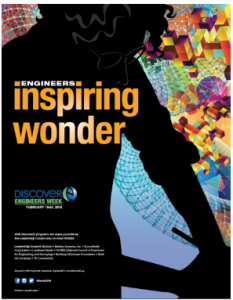 Looking for a way to make engineering come to life in your classroom? DiscoverE has a searchable library of free engineering and technology videos, hands-on activities (including 30 activities related to the DREAM BIG film), and other resources. Also check out ideas – and a free toolkit – for introducing engineering on Girl Day, which takes place Feb. 22, 2018.
Other sources for eWeek activities include Engineering is Elementary, the Museum of Science, Boston's program. Download a poster showing the EiE Engineering Design Process, or try such fun, hands-on engineering activities as "Guess the Technology," "Technology Tag," "Tower Power," and "Wind-Powered Vehicles." There's also an app that let's you load EiE's "Technology Flashcards" on your iPhone
Filed under: K-12 Outreach Programs, Special Features
Tags: Civil Engineering, Class Activities, DiscoverE, Engineering is Elementary, Engineers Week, Environmental Engineering, Internet Resources, Resources for Teachers, STEM education, Web Resources