Posted on
January 16th, 2018
by Mary Lord
In his day job, Mike Rogals is an electrical engineer at Control Technologies Inc. in Williston, Vermont, where he works on climate-control and energy systems for buildings throughout New England and New York.
During the winter, however, the University of Vermont graduate trains full time at the U.S. Olympic Training Center in Lake Placid, N.Y., and has been traveling the world as a member of the USA Men's Skeleton National Team. As he told NBC5 News, he even designed his own sled! (Click HERE for video.)
Rogals, who started sliding six years ago, finished second at the 2014 U.S. National Championships and ranked 5th in the United States and 48th in the world in the 2016-2017 season. He was one of six athletes representing the United States this fall at the Intercontinental Cup tour but fell short of earning a berth on the three-man  2018 Olympic team competing at PyeongChang, South Korea, in mid-February.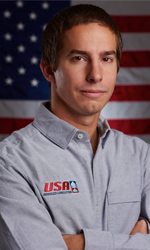 The sport, which debuted at the Salt Lake City Winter Games in 2002, is "pretty rough on your body," says Rogals. "It actually feels kind of like a small car crash every run."
In addition to training, which includes daily workouts at the gym, Rogals has had to develop a champion's mind-set. "The last few weeks of sliding have been crazy," he wrote on his Facebook page in October, after being named to the International Cup team. "I've had personal records, good times, and great adventures. I've also had two of my best friends for the past 5 years and a guy I've looked up to for 8 years retire from sliding after the last USA Team Trials race on Tuesday. It's a sobering reminder that in order for me to achieve my goals in sliding, I will have to essentially end the dreams of some of the people I like best in this world." He concluded: "The only thing I can do now is to take advantage of the opportunities that I have earned, and do my best to represent my country and teammates this season on tour."
Of the Olympics, he told NBC5 News in December: "It may or may not work out in the end, but the cool thing about chasing a lofty dream is that I'll never feel like I was wasting my time or have any future regrets about not seeing it through."
Rogals is not the only engineer to pursue Olympic dreams.
Team USA's Pyeongchang roster includes Erin Jackson, 25, the first African-American woman to secure a spot on the long-track speed skating team and a former roller-derby professional skater. She also made history for the speed with which she qualified: four months after she took up the sport, she came in third in the 500-meter contest at the 2018 U.S. Olympic Speed Skating Trial. The Florida native graduated with honors in materials science engineering from the University of Florida and hopes to pursue graduate studies, according to  NBC Sports.
Her teammate, Maame Biney, an 18-year-old high school senior, made national news when she qualified in speedskating for her first Olympic team at the December 2017 track trials. [The video went viral and was watched more than five million times on Facebook.] Originally from Ghana, Biney is the first black woman to make the Olympic speed skating team and the second-ever African-born athlete to represent the U.S. in the Winter Olympics. She's keeping up with her high school studies online and plans to apply to chemical engineering programs for college.
And Dartmouth College, which has sent students or alumni to every Winter Olympics since the games began in 1924, has a strong presence at PyeongChang Games. Chief among them: David Chodounsky, 34, a two-time Olympian. The NCAA and world tour slalom champion graduated in 2008 with a double degree in engineering and geology. The photo, below, shows him racing at the 2017 World Championships in St. Moritz.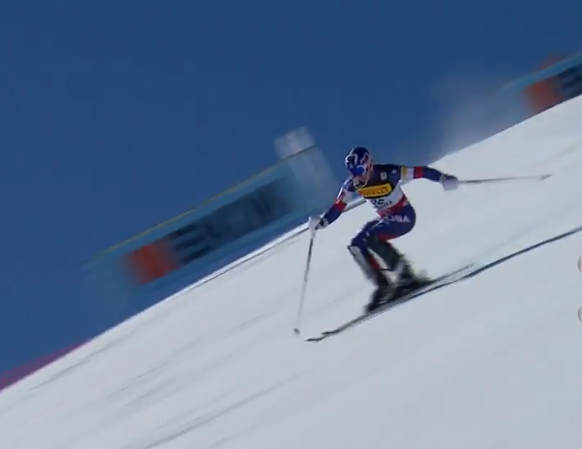 The Olympics have seen other engineers compete. American-born shot-putter Stephen Mozia, who competed for Nigeria at the 2016 Rio Games, has a degree in engineering from Cornell University. Stanford engineering grad Fencer Alex Mass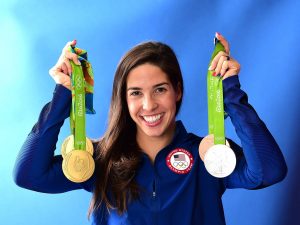 ialis, a Stanford mechanical engineering grad, took home a silver medal in foil from Rio and a bronze in team foil, while Stanford engineering and management science major Maya DiRado won four medals – including two gold – in swimming.
Though they're not elite athletes, plenty of engineers have been involved over the years in designing and building the Olympic venues, such as Sochi – reportedly one of the most ambitious projects in Olympic history of the Games.
New Jersey Institute of Technology created a civil engineering infographic on the $51 billion it cost to build and host the 2014 Russian Games.
And South Korea's prowess in heavy construction, robotics, and advanced telecommunications is very much in evidence at the Pyeongchang Games.
Filed under: Special Features
Tags: 2018 Olympics, Bobsled, Dartmouth, David Chodounsky, engineering major, Erin Jackson, Events, Maame Biney, Mike Rogals, Olympic engineering, pyeongchang, skier, speed skating