Posted on
September 18th, 2011
by Mary Lord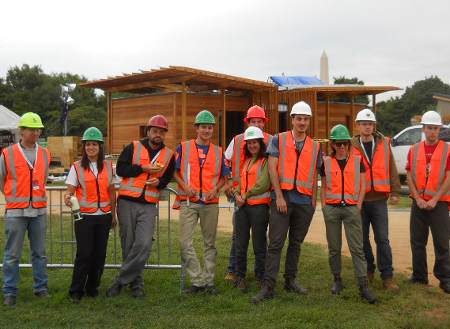 What does it take to build a solar village, where homes not only are designed to create more energy than they use but are comfortable and cool to look at, too? Some 19 student teams from U.S. and international colleges found out this past weekend as they began installing their entries to the 2011 Solar Decathlon in Washington, D.C. The answer: lots of hands-on work involving hammers, wrenches, plumbing, and construction cranes.
The flurry of activity capped the students' two-year effort to prepare for the U.S. Department of Energy's signature design/build/operate competition, which this year takes place from September 23 to October 2.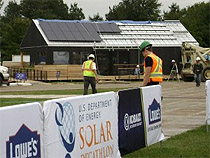 To get to this stage, students majoring in engineering, architecture, art, and other disciplines worked together with educators and professionals to develop every element–from water heaters to furniture to windows–of an elegant-but-affordable house powered exclusively by solar energy. Their structures must fit within size and, for the first time this year, cost limits. (Teams lose points if construction costs top $250,000, with zero points awarded in excess of $600,000.)  Houses also have to pass muster in 10 separate trials, from real-world livability to curb appeal. One appliance test, for instance, involves drying a load of soggy towels within two hours. The "home entertainment" contest requires teams, among other tasks, to host two dinner parties for neighbors—with points awarded for meal quality and ambiance. (It's not clear if tasks include cooking and cleanup!)  The team that "best blends affordability, consumer appeal, and design excellence with optimal energy production and maximum efficiency" is crowned the Solar Decathlon champ.
The judges won't have an easy time picking the winner from this 'hood full of ingenious–and distinct–homes springing up near the Washington Monument.  Middlebury College's traditional-looking "self-reliant" farmhouse, for instance, stands in stark contrast to Team Belgium's futuristic E-Cube. In keeping with its Chesapeake Bay preservation theme, the University of Maryland's WaterShed features a V-shaped green roof and constructed wetland to help filter "gray water" from the shower. By contrast, City College of New York students designed a modular Solar Roofpod that could turn unused space atop skyscrapers into an energy-efficient penthouse.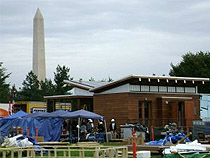 Students face many challenges in the two years leading up to the Solar Decathlon. Few come with the expertise needed to actually wire a house, for instance. That means seeking help from professionals, many of whom are generous with their time, expertise, and even supplies. Team New Zealand did not have a single electrician, but developed the expertise by working with professionals. While Solar Decathlon entries are supposed to be affordable, securing  sponsorship for a $250,000 solar house can tax many teams. Some colleges offer credit for Solar Decathlon courses; at other schools, it's an elective. Even teams that make great progress in developing green technologies for their solar homes may fall short of the finish line; such was the case with the University of Hawaii team, which withdrew from the contest in June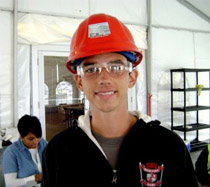 Finding time for the Solar Decathlon can be particularly difficult for busy students like Christopher Wiet (photo, right), a fifth-year mechanical engineering student at Ohio State University who also plays in the marching band. He helped design the heating and air conditioning systems, including humidity, temperature, and carbon dioxide sensors, to provide maximum efficiency and comfort in the team's EnCORE solar house. Wiet had to return to Ohio before construction was finished because the marching band had a football game. Still, he says participating in the project "helped me understand all the different systems" that needed to be controlled. Moreover, seeing real-world examples of engineering he's taking in class "helps me be more excited about it, something worth doing some day."
Many students find the hands-on final assembly of their projects the most exciting, and challenge, part of the Solar Decathlon. Up  until then, all the separately designed systems had undergone tests and looked great–at least on paper. Whether everything will work together in the real world as planned only becomes clear after wrestling a roof into place or fitting beams together. "There's really no substitute for doing it yourself," says Ohio State decathelete Christopher Wiet. "There's a lot more teamwork and things don't always go as you expect."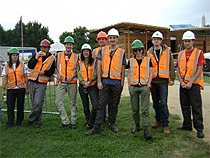 For Team New Zealand, from Victoria University of Wellington, "transportation was the biggest challenge" says Sophie Prebble, who is in charge of marketing and communications. Their entry, First Light, is a solar version of the traditional "Kiwi bach" (pronounced 'batch') or vacation home built from sustainably grown Canadian cedar. (The houses are free and open to the public from 10:30 a.m. to 5:30 p.m. starting September 23.)  Coming from halfway around the world "meant everything had to be put in containers and shipped months ahead," she explains. Engineers and architects had to factor an extra three months into the production schedule for sea freight–and design pieces to pack flatly into 2.2 meter-wide standard shipping containers. The up side was that the team was finished earlier than their competitors. The students also learned a lot about building codes in other climates that might be useful back home. For instance, the Solar Decathlon's requirement for 2 inches of insulation is three times the code in temperate New Zealand, generating ideas for improving energy efficiency.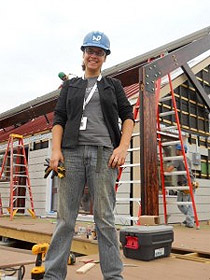 Students also gain new perspectives on their chosen fields after working with teammates from other schools and disciplines. As the Team Massachusetts health and safety officer, Leila Gonzalez (photo, right), a senior majoring in architecture at the Massachusetts College of Art and Design in Boston, had to design the safety-harness system for the crew assembling the roof on their 4D Home. (The house, which looks like a typical New England frame home nestled under a porch-like solar shell, has refrigerator that consumes less electricity than a 60-watt bulb.) Gonzalez went from never having touched a 2-by-4 to mastering drill bits and furniture making. She has to learn federal occupational safety and health (OSHA) regulations and work with engineering students at the University of Massachusetts, Lowell to factor safety into their designs. She also "learned so much about electricity and hot water!"
Ultimately, the Solar Decathlon gave Gonzalez a new lens on architecture. "I thought about design differently," says the Argentina native, who thinks she wants to pursue a career in building technology and developing sustainable materials rather than sketching architectural plans. "I was designing something for how it looks, but I wasn't really thinking about how it's going to get built." The building process, Gonzalez concludes, is "all about communication," and sharing ideas with teammates who bring a diverse set of skills to the design process.
Those sorts of lessons last well beyond the U.S. Department of Energy's contest, which ends October 2.  As for the solar village, several of the homes already have eager occupants. A New Zealand woman purchased the Kiwi Bach (pronounced "batch") and plans to use it as her retirement villa. Ohio State's team says plans include using their home for visiting scholars before converting it to housing in a low-income Columbus neighborhood.
Filed under: Special Features
Tags: Architecture, Design, Solar Decathlon, Solar Energy, Solar Engineering, U.S. Department of Energy