Posted on
August 28th, 2011
by Mary Lord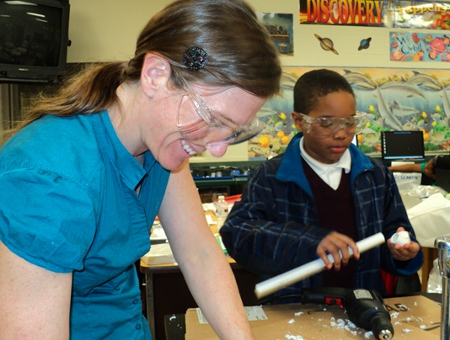 Stephanie Greer and student
Want to incorporate engineering into your STEM curriculum but don't know where to start? Stephanie Greer faced that exact challenge last year.
Newly installed as the technology integration specialist at an inner-city Philadelphia boarding school for 1st – 12th graders from low-income households, the lifelong "problem solver by nature" saw engineering as a way to enliven classes and excite students about STEM careers. Greer also wanted to launch an elementary robotics program. In both cases, basic how-to information seemed scarce to nonexistent.
By chance, her friend Rebecca Stein, who does K-12 outreach at the University of Pennsylvania's engineering school, invited her to a workshop for teachers at nearby Villanova University. Among the presenters was ASEE's "Engineering Go For It" team. Since then, "eGFI has been my go-to site" for ideas, says Greer, whose blog includes several posts on how she has used such eGFI resources as flash cards and "If I Were an Engineer" kids' book in the classroom. "I had to do a lot of learning and that's where eGFI came in handy." She finds that eGFI's hands-on activities – such as making Fun Putty or building a bridge from index cards and loading it with pennies – "lessens the fear factor that goes along with engineering" and shows teachers that they don't need to call upon visiting professionals to teach it.
Here are some of Greer's tips for navigating the eGFI teachers' "really user-friendly" interface:
Find lessons by grade level. The eGFI teachers' site includes a large archive of engineering lessons and hands-on activities. Searching first by grade level lets you zero in quickly on those that best fit your students. Then scan for activities that convey the content the class must cover – as well as the length of time needed to do them and the ease of assembling the needed materials.
Search by discipline or theme. Need an activity to supplement a physics class or drive home a math concept? The "tag cloud" on the lower left of the activities and lesson plans pages offers a quick way to locate the appropriate discipline. Or use the regular search engine box on the upper right corner of each page.
"Like" eGFI on Facebook. Greer visits the eGFI site often, usually after clicking on "some cool little post" that landed on her Facebook wall.
Check out the student blog. Greer's students enjoy the simply written features about engineers and cool technologies, such as a recent posting about transforming plastic bottles into lights. She says the blog is "a great jumping off point for teachers in terms of writing assignments and conversation starters." For instance, after reading a post on a featured innovation, she might lead a discussion on whether the development costs align with the income level of its target population.
Explore eGFI flash cards and publications. Greer has used the deck of 16 eGFI flash cards to get students thinking critically and writing about how engineers help solve society's problems as well as the areas that different branches of engineering focus on. The "Dream Up the Future" guide sparks young imaginations and class discussions about what problems they'd solve as engineers. Greer's one beef: the pages in "If I Were an Engineer," eGFI's new kid's book, are too small for six-year-olds to pore over the illustrations. Her solution: scan a page so it can be projected from her computer to a smart-board.
Check out Stephanie's robotics and STEM club videos.
Filed under: Class Activities, Lesson Plans, Special Features
Tags: Class Activities, Curriculum, egfi tips, engineering starter kit, navigating egfi, Resources for Teachers, Teacher Resources, teachers' guide to egfi, Web Resources, Website