Posted on
August 28th, 2011
by Jaimie Schock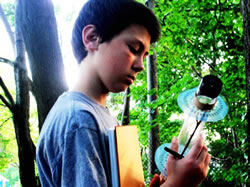 On a hike through the Catskill Mountains in New York, Aidan Dwyer, a seventh-grader, noticed that the branches of oak trees seemed to follow a pattern. Inspired, he created a tree-like arrangement of small solar panels capable of generating 20-50% more energy than traditional flat designs.
Dwyer's solar tree is based on a mathematical concept called the Fibonacci sequence, which was devised in medieval times. The sequence of numbers (0, 1, 1, 2, 3, 5, 8, 13, 21, 34…) involves adding the last two numbers together to get the next one. The pattern, which is observed in many places throughout nature, is often represented as a spiral that fits into rectangles.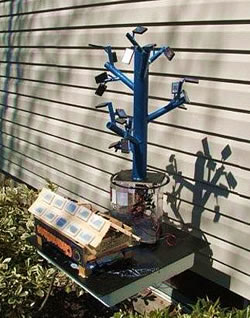 Using the sequence as a guide, Dwyer designed and built his own test model. He also built a traditional array to use for comparison of energy generation. He measured their performances with a data logger, worked in and isolated variables, and compared the results. Just like a tree with leaves that act as nature's solar panels, Dwyer's solar sapling came out on top.
Dwyer's design earned him the American Museum of Natural History's Young Naturalist Award and a provisional patent.
Images from the American Museum of Natural History.
Filed under: K-12 Education News
Tags: Energy, Energy and Environmental Technology, Green, Green Technology, Ideas & Inventions, Research, Solar Energy, Solar Engineering, student invention, Student research, Technology