Search Results
2 results for: silly putty

Posted on

March 6th, 2011

by Mary Lord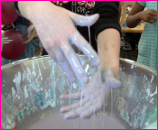 From the "miracle fiber" Kevlar invented by Dupont chemist Stephanie Kwolek to Silly Putty, our world abounds with materials discovered by accident. In this activity from the Society of Women Engineers (SWE), students will learn some serious materials science–and hit several national science and tehcnology standards–by using everyday items to create and investigate the properties of Funny Putty.
Putty, Serious Stuff">Read More
Filed under: Class Activities, Grades 6-8, Grades 6-8, Grades K-5, Grades K-5, Lesson Plans | 1 Comment »
Tags: Class Activities, Curriculum, Lesson Plan, Lesson Plans, Slime
Posted on
August 28th, 2011
by Mary Lord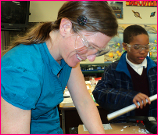 Want to incorporate engineering into your STEM curriculum but don't know where to start? Stephanie Greer, a technology integration specialist in an inner-city Philadelphia school, faced that exact challenge last year. She shares her top tips for making the most of eGFI, which she calls her "go-to site" for inspired engineering lessons, activities, and more!
Filed under: Class Activities, Lesson Plans, Special Features | 1 Comment »
Tags: Class Activities, Curriculum, egfi tips, engineering starter kit, navigating egfi, Resources for Teachers, Teacher Resources, teachers' guide to egfi, Web Resources, Website