Posted on
May 22nd, 2011
by Mary Lord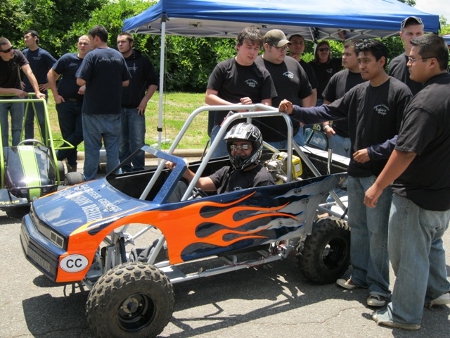 On May 19, design teams from Winston-Salem/Forsyth County Schools raced in an alternative fuels Go Green Go-Kart Competition hosted by the alternative fuels – environmental club as part of the WSFCS Career Center's annual Carnival Day. This year's karts were powered by electricity, ethanol, biodiesel, and used vegetable oil.
The contest's first-ever middle school students participated, raising the  number of entries to a whopping 24 teams — up from just 11 teams last year.
"It gives me confidence, because once they know I'm good, they'll get scared," sixth grader Amber Burchette, one of a handful of girls in this year's race, told News 14 Carolina. Clocking the fastest lap times two days before Thursday's race made her  "pretty confident" of winning.
The annual go-kart competition was designed to give students an appreciation for engineering through realistic application of what most engineering schools are requiring.  The green fuels element adds social relevance to that rigor, increasing student engagement.
"One of the first questions I get asked when the juniors come into my class as seniors, is 'when can we start working on the go karts?' It's something they look forward to all year long," said Automotive Tech Department Head Jeff Adams, interviewed by WFMY News 2's digitriad.com. He added the competition gives students something to help with the end-of-the-year stress while sticking to the curriculum.
"It's a nice application for what they're doing in the classroom," agreed Sean Bennett, the WSFCS Career Center teacher and coordinator interviewed on News 14 Carolina who helped secure a $19,000 dropout-prevention grant from the local Chamber of Commerce to purchase a diesel engine for each team. "Then, being able to put it into practice in the go karts and the students just go out and have fun." He hopes that will keep their students in school and on track to graduate.
Watch WFMY's pre-race report:
Filed under: K-12 Education News, Special Features
Tags: Automobiles, Automotive engineering, Cars, Competitions for Students, Contest, Environmental Engineering, Events, Green, Green Technology, Programs for Students