Posted on
May 22nd, 2011
by Jaimie Schock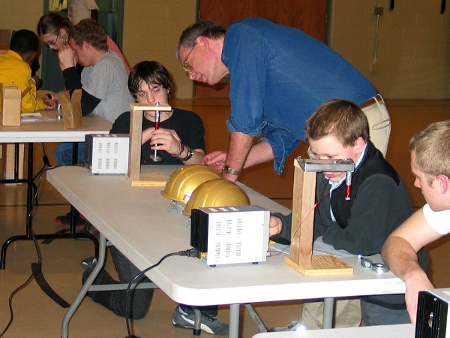 Jim Caruthers (center) helps student teams on an electrical project.
Huddled around a line of tables, students tinker away at small motors, making slight adjustments and debating next steps. Like engineers, they work closely in teams as they construct a variety of electrical components. Now and then, a seasoned teacher leans in to ask how the project is coming along and to provide suggestions.
These students are not enrolled at a university.  They are at-risk, mostly low-income kids at the Bauer Community Center in Lafayette, Ind., collaborating on real, hands-on building projects loaded with science and engineering with volunteer mentors from Purdue University's engineering school who want to help them stick with school and graduate.
The fourth through eighth graders are learning how to use such basic tools as saws, screwdrivers, and hammers. Along with the motors, they've built buzzers and other components in the spirit of science fairs and assembled remote-controlled (RC) cars and even their own kid-friendly go-karts, using simple parts, a little direction, and elbow grease.
The Bauer Community Center program grew out of an ambitious effort at Purdue University to generate excitement among its own students in STEM studies and careers. Chemical professor Jim Caruthers hoped in particular to encourage more students to pursue electrical-mechanical engineering to prepare them for future jobs in the electrical and electrical vehicle industries.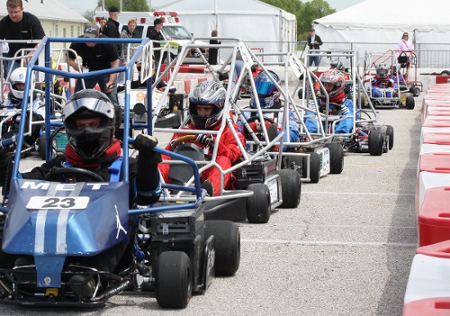 Undergraduate competitors line up in go-karts at evGrandPrix.
Caruthers came up with the idea of a competition where teams would build and race their own high-powered go-karts. He won $6 million grant from the U.S. Department of Energy to develop a program around lithium-ion batteries. According to Caruthers, these have the highest energy density commercially available and allow for performance equal to or exceeding that of more common gas go-karts. Teams compete in a 100-lap race—"evGrandPrix"—for $20,000 worth of scholarships. To win, they have to do more than place first; design and energy efficiency are judged as well.
The goal of evGrandPrix is to eventually go national. In the meantime, Caruthers has found a way to incorporate it into students' mentoring of middle school-age kids. It didn't take long for his team to learn that these teens and pre-teens will gravitate toward a project that requires not only driving but building a vehicle. An association with racing is an added draw.
The result will be a series of science and engineering projects around go-kart technology, with the intent of incorporating them into the electrical curriculum of 4-H, the nationwide youth development organization.
A Purdue student mentors kids at Bauer Community Center.
At the start of this year, Caruthers set out to test these projects on a group of middle school-age students, and doing so at Bauer provided an excellent opportunity to reach out to kids in need. Since many of them had never really done anything with their hands before and were lacking a lot of structure in their lives, a consistent, close mentoring style was key to success.
"We hope they take away a fascination with building things, seeing how they work," Caruthers says, "and an interest to further explore a technology pathway as they choose their middle and high school courses."
Right now, the young drivers are inching along slowly in their lower-powered karts at the community center. But, this summer, they will take on the Purdue track. Caruthers says he hopes to involve the larger 4-H community in the upcoming year.
Filed under: Special Features
Tags: Automobiles, Automotive engineering, Cars, Electrical, Electrical Engineering, Environmental Engineering, Green, Green Technology