Posted on
June 19th, 2011
by Mary Lord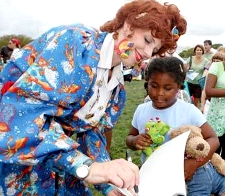 Did Miss Frizzle, Magic School Bus driver and science teacher extraordinaire, major in physics, chemistry, or earth science? If she were teaching in a U.S. public high school today, a new survey by the National Center for Education Statistics (NCES) suggests, the answer is probably not.
The study found that fewer than half the chemistry and physical science teachers in public high schools had degrees in those fields, with about 30 percent lacking certification  in their subjects.  About 58 percent of physics teachers earned a bachelor's degree in the subject, and half of earth science teachers are uncertified. The study, based on 2007-08 data, reported that 84 percent of science teachers held a degree in their main assignment, compared with 73 percent of math teachers.
Still, more than half of all chemistry, physics, and earth science classes were taught by non-concentrators.  The exception: biology/life sciences, which with history had more than half the students taught by teachers with both qualifications.
The trend worries STEM education proponents.  "If you don't have content knowledge then it's very difficult to not only teach the class, but it's virtually impossible to inspire somebody," Tom Luce, CEO of the National Math and Science Initiative (NMSI) and a former assistant secretary at the U.S. Department of Education, told U.S. News & World Report's June 8 High School Notes.
Science teachers are not the only ones with a qualifications gap. Fewer than two-thirds of history teachers have and in-field degree. (By contrast, 82 percent of English teachers and 95 percent of music teachers hold a bachelor's degree or higher in their field.)
The problem is more pronounced in middle school, where a 2007 report by the National Academies of Science found only 1 in 10 middle school physical science teachers had a degree or certification in the subject.  "That's when you lose a kid's interest," Luce says. "They don't even want to try in high school because they think, 'I didn't like this in middle school.'"
A number of initiatives hope to ramp up STEM teacher quality and numbers. The University of Texas's pioneering UTeach STEM teacher training program has spread to 22 universities; the program lets undergraduate students earn a teaching certificate as well as a bachelor of science in math or science. A similar program by The Woodrow Wilson National Fellowship foundation will train 450 STEM teachers in three states.
Meanwhile, North Dakota's Bismarck Tribune featured a program at Sitting Bull College that is training teachers how to inject hands-on STEM experiences into their regular classes. And Tennessee's Board of Regents just launched a five-year overhaul its teacher preparation programs, the Tennessean reports. The new Ready2Teach model emphasizes deep subject knowledge for undergraduates and early student-teaching experiences with master educator-mentors.
For now, most schools must make do with the teachers they have to cover the STEM subjects that leaders from the President on down insist are vital to the nation's future.
Filed under: K-12 Education News
Tags: Higher Education, Public Policy, Research on Learning, Science, Teacher Training, Teachers