Posted on
June 19th, 2011
by Jaimie Schock

Engineering instructors adapt to the needs of deaf and hard-of-hearing students.
(Adapted from the January 2011 issue of Prism magazine Teaching Toolbox feature, written by Jaimie Schock)
Eight students are having an animated discussion about automated systems, but the room is almost soundless. One of them asks a question, using only hand movements and facial expressions. Then, instructor Scott Bellinger responds and breaks the silence, interspersing spoken words with American Sign Language and its more rigid cousin, signed English.
At the National Technical Institute for the Deaf, a problem-solving approach has been developed to overcome the educational disadvantages faced by students who are deaf or hard of hearing (d/hh). Part of the Rochester Institute of Technology, the 1,200-student NTID is America's only technical college for d/hh students. Bellinger, an assistant professor of engineering, is not deaf and spent a year mastering the complicated, vision-based ASL and signed English. He and other NTID instructors know that more is required of them if d/hh students are to get a cutting-edge STEM (science, technology, engineering, and math) education.
Many of the school's students struggle with reading comprehension, in part because of the differences between ASL and spoken or written English. Some may come from state-sponsored schools for the deaf, where the right tools are available but where STEM education is severely hindered by a lack of funding. In addition, states vary in high school graduation requirements, resulting in students arriving at NTID with drastically different needs and skills.
NTID students bring different gradations of deafness and competence in signed English and ASL. That's why Bellinger and other hearing instructors use the two sign languages and also their voices, facing the class so their lips can be read. They're also careful to calibrate the pace of their classes. They know, for instance, that students can't follow what a teacher is saying and view a PowerPoint at the same time.
In all teaching of d/hh students, "the challenge is to maintain the communication" and maintain a lively class, says Dino Lauria, Interim Department Chairperson of Engineering Studies. Every detail of the classroom experience has to be d/hh accessible, and teachers need to familiarize themselves with different assistive technologies, such as cochlear implants and teletypewriters. Knowledge of social norms within deaf culture, such as rules of etiquette for gaining attention, and getting into and leaving conversations, is also important.
Because of inadequate preparation in math and English, many NTID students struggle to master word problems and understand the written instructions for other math assignments. Bellinger, who spent two decades in industry as an automation and robotics engineer, devised a solution called the StepWise method. It's a step-by-step guide to solving scientific, technological, or mathematical word or story problems. If the student comes up with an answer that is wrong or doesn't make sense, or if the units don't match what was expected, students return to the formula-picking step and go through the process again.
The method was first tested in Bellinger's Mechanical Devices and Systems class last year and has since been used in other NTID classes. Students compared across two classes did 16 percent better with StepWise worksheets than those without. After Bellinger and several colleagues presented a research paper on his method at the 2010 ASEE Annual Conference, other educators embraced it as suitable not only for d/hh learners but hearing students as well.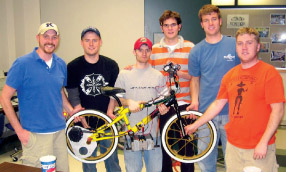 Bellinger finds hands-on projects outside of class to be effective as well, and has incorporated a personal hobby into his teaching. "I've been building and riding electric bikes since 1979," he says. He formed NTID's first electric bicycle club, which has participated in a contest every year since 2006, something Bellinger calls a "win-win" for both the students and himself. He and Ronald Till, chairman of NTID's industrial and science technologies department, served as interpreters for the students. In order to keep up with all the commands, communication had to happen quickly and efficiently. Bellinger found that his signing ability improved. "It's a fabulous experience," he says.
In 2006, NTID's team won first and second place in the student division of the $10,000 Around Town Vehicle Competition, which judges teams on practicality, acceleration, handling, range, good fuel efficiency, and low climate-change emissions. That same year, the team also won second and third place overall in the international Tour de Sol electric bicycle competition, held in Saratoga Springs, N.Y. NTID's entry into Tour de Sol, which is volunteer-run and sponsored by the Northeast Sustainable Energy Association, marked the first time in the contest's 18 years that a d/hh team had competed. Contest organizers made some modifications to accommodate d/hh contestants. For example, other riders now use flags to signal d/hh competitors when a horn is sounded as a warning.
Similarly, the engineering studies faculty members participate in the FIRST robotics regional competition with a local school for the deaf. According to Lauria, "This sets several examples of faculty sharing contents, providing in-class mentorships, and volunteering [for] school-based activities simultaneously."
Believing that early outreach is key, Bellinger works with middle and high schools to draw d/hh students into STEM fields. He sits on a panel for high school students that focuses on career plans. Through the Board of Cooperative Educational Services Program, which provides shared educational resources, Bellinger has reached out to high school students, both d/hh and hearing, to bring engineering to them as a possible career path. This role also allows him to determine what about outreach education has and has not worked in recruiting students.
The education of d/hh students may require unique skills and approaches, but in one respect it's no different from teaching any other group of students. When an instructor obviously cares about getting his students to learn, they tend to react the way that Ethan Young, an automation technology major, did after taking Bellinger's Programming Logic Controllers class: "He's a good teacher."
Read the full Prism article here.
Filed under: Special Features
Tags: adaptive technologies, Math, Science, Technical Communications