Posted on
May 29th, 2011
by Mary Lord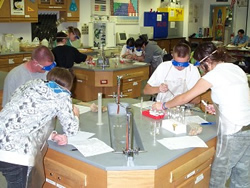 It's been a banner spring for STEM this year. First, a Maryland science teacher draws White House honors as national Teacher of the Year. Now, the School of  Science and Engineering Magnet in Dallas, Texas, has soared to the head of the latest Washington Post Challenge Index to rank first in the nation. The school, created in 1982 as part of the city's desegregation efforts, has America's highest number of minority students passing the AP calculus test and earning college credit.
The annual ranking employs a straightforward formula to gauge "equity and excellence."  It tallies the number of Advanced Placement, International Baccalaureate or other college-level tests a school gave in 2010 and divides by the number of graduating seniors. "While not a measure of the overall quality of the school, the rating can reveal the level of a high school's commitment to preparing average students for college," explains the Challenge Index 's creator, Washington Post education reporter Jay Mathews.
This year, the Washington Post expanded its Challenge Index research to high schools nationwide. It rated more than 1,900 high schools – roughly 10 percent of the country's total number.
STEM schools were well-represented in the top tier. New York City's New Explorations Into Science, Tech and Math, an honors K-12 school, was #16, with Tucsan's Sonoran Science Academy coming in #27. San Diego's Community Health and Medical Practices School, where Jonathan Winn, a math teacher profiled by eGfi, makes calculus the hottest course for the school's largely low-income immigrant students, is in the nation's top 7 percent of schools at #1098.
Filed under: K-12 Education News
Tags: Education Policy, Research on Learning, STEM education