Posted on
January 9th, 2011
by ASEE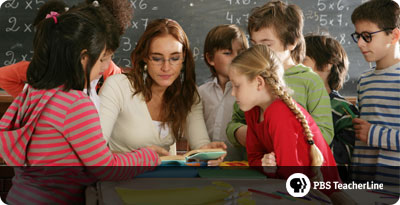 PBS TeacherLine has introduced an online course developed at Purdue University for elementary teachers specifically to strengthen their teaching strategies in science, technology, engineering, and math (STEM) topics. The course, Inspire Elementary Students with Engineering, shares teaching strategies to provide students with an early foundation in engineering through standards-based science and math curriculum and to develop students' critical-thinking and problem-solving skills.
According to T.H.E. Journal, the course was developed by the Institute for P-12 Engineering Research and Learning (INSPIRE) within the Purdue University School of Engineering Education.
The 30-hour program, which costs $295, uses a "model eliciting activity" (MEA), an approach for integrating engineering principles into the classroom. As teachers work through a sample MEA, they'll also be designing original activities that align with their unique curriculum and learning how to pilot it in their classrooms. The activity, according to a description of the course, requires students to develop hands-on solutions for a client and then test the model they've created.
Teachers can earn graduate credit from Purdue, continuing education units, or professional development points for course completion. The first offering of the new course begins Jan. 26, 2011.
PBS TeacherLine offers professional development for pre-K-12 educators through facilitated, online courses, collaborative learning communities, and Web-based resources. The organization is funded by a grant from the United States Department of Education, which supplies about 85 percent of the total program funding. The remaining 15 percent is funded through in-kind support from PBS and program income.
INSPIRE conducts research into engineering education in four areas: teacher professional development, assessment, student learning, and informal learning.
Filed under: K-12 Education News, Web Resources
Tags: Courses, Higher Education, Internet Resources, PBS, PBS programs, Programs for Teachers, Resources for Teachers, Teacher Resources, Web Resources