Posted on
September 6th, 2010
by ASEE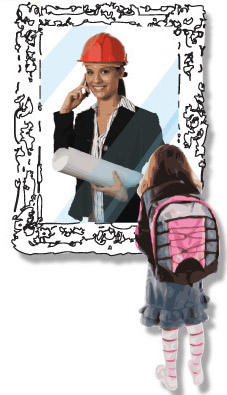 OPENING MINDS, RAISING SIGHTS
Mentored by technical professionals, girls explore routes to upward mobility — from the December 2009 issue of ASEE's Prism magazine, by Corinna Wu
One sunny Friday afternoon, Google engineering manager Patty Legaspi stood before a classroom of girls at Oakland Unity High School and told them the story of her life. Born in Berkeley, Calif., to Mexican immigrants, she and her siblings grew up not far from where the girls sat that day. "Thirty-sixth and East 14th? You know where that is?" Legaspi asked. Heads nodded. Legaspi told the girls that she graduated from high school in 1999 with a 4.0 GPA, but her parents didn't want her to leave home for college because it would take her away from her family. It was a situation many of the girls might find familiar. But Legaspi's very presence in the classroom offered proof that such obstacles could be overcome.
Legaspi volunteers as a role model for Techbridge, an after-school program run by the Chabot Space & Science Center in Oakland that aims to get girls in underrepresented groups excited about engineering. All women in technical fields, role models engage in hands-on projects with the students, give them tours of their workplaces, or simply visit their schools and talk, as Legaspi did. Begun in 2000, Techbridge operates in 18 middle and high schools in the San Francisco Bay Area and serves about 400 girls each year. Some 2,500 students have gone through the program.
Many of the girls may not know an engineer, let alone have a family member in the profession, says Linda Kekelis, Techbridge's project director. Asking them what they want to be elicits responses such as "a cashier" or "to do hair and nails," Kekelis says. The role models, who often share backgrounds similar to the girls', help to forge a personal connection and introduce engineering as a potential career.
Read the entire article

Access the Techbridge Website

Filed under: Special Features
Tags: Engineering outreach, Mentoring, Programs for Girls, Women in Engineering