Posted on
January 7th, 2013
by Mary Lord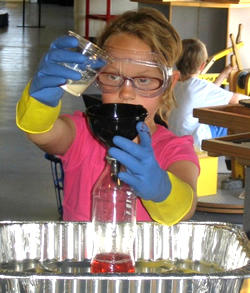 The second – and final – draft of the Next Generation Science Standards (NGSS) was released for public comment on January 8. The latest version is substantially different from the draft released last May – 95 percent of what students must be able to do or demonstrate have been changed to reflect the feedback received by Achieve, the nonprofit managing the writing process. Teachers and others in the STEM education community have until January 29 to review and critique them.
Developed from the National Research Council's Framework for K–12 Science Education, these cross-disciplinary new standards set "performance expectations" for students that integrate engineering, technology, and design concepts into the traditional Earth, space, biological, and physical sciences. They also link to the Common Core math and literacy standards that 45 states and the District of Columbia have adopted. The goal: Have students understand science by doing it, not just observing or reading about it.
Why NGSS? It has been nearly 15 years since the National Research Council and the American Association for Advancement in Science produced the documents on which most state science standards are based. Since then, major advances in science have taken place. So has understanding of how students learn science.
The new standards, which are being developed in partnership with teachers and curriculum experts in 26 states, promise to change the way science is taught at every grade level. That may explain the high level of interest and support on the part of educators, university groups, and professional societies – including the American Society of Engineering Education. (Read why Michael Wysession, an Earth and space science professor and leading member of the NGSS writing team, thinks U.S. kids need the NGSS.)
How well will your classroom measure up to the NGSS? North Carolina State University engineering educator Elizabeth Parry, ASEE's K-12 and Precollege Division chair, helped develop an engineering addition to the state's new STEM Rubric that schools can use to assess their progress toward implementing quality STEM programs. The attributes are measured in four areas:  engineering habits of mind, engineering design process, systems thinking, and problem solving.
Filed under: K-12 Education News
Tags: Education Policy, engineering standards, National Research Council, new science standards, Next Generation Science Standards, NGSS, Public Policy, STEM