Posted on
January 15th, 2013
by Mary Lord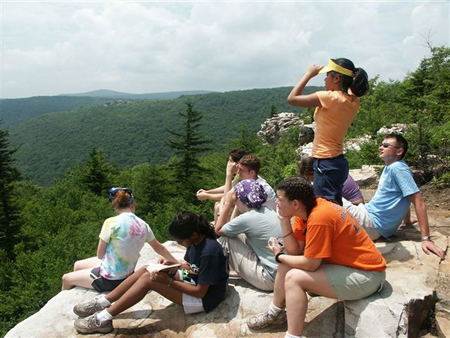 Level: High School Seniors
Deadline: March 1, 2014
Where: Camp Pocahontas, near Bartow, W.V.
Dates: June 27 – July 20, 2014
Cost: Free, including travel to and from the camp
The National Youth Science Camp (NYSC), one of the country's premier science education programs, offers graduating high school seniors a month of outdoor adventure and hands-on projects in the beautiful woods near Bartow, W.V., all travel costs and camp fees paid. A typical day might include a lecture on origami math and making duct-tape wallets.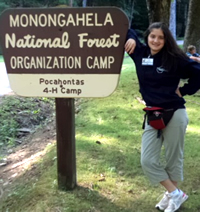 Two students selected to represent each state will have an opportunity to conduct research with professionals, stargaze with NASA scientists, meet officials in Washington, D.C., and enjoy hiking, swimming, and making friends with peers from other states and Latin America. NYSC alumni include astronauts, members of Congress, Nobel Prize winners, and business leaders.
Each state and country conducts its own competition to select delegates. Please see the application form for information and contacts for your state/country selection coordinator.
Applications are due  March 1, 2014. Click HERE for application forms and instructions, and for answers to frequently asked questions.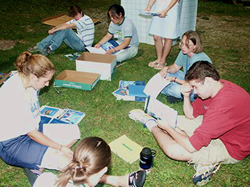 Applicants must:
Graduate from high school between July 1, 2013, and June 30, 2014;
Demonstrate superior academic proficiency, including recognition in mathematics and/or the sciences;
Demonstrate an application of leadership abilities and social maturity through involvement in both school and community activities;
Demonstrate skills and achievements outside the realm of science and outside the realm of academic pursuits; and
Demonstrate a curiosity and an eagerness to explore many and varied topics.
Commit to attending all four weeks of the camp.
The camp is made possible through planning and fundraising from the National Youth Science Foundation, a nonprofit organization with a mission to honor, sustain, and encourage youth interest and excellence in science by conducting comprehensive informal science education programs. These programs are designed to provide opportunity for students to have constructive interaction with others and emphasize the social value of scientific careers.
Filed under: Grades 9-12, K-12 Outreach Programs
Tags: National Youth Science Camp, NYSC 2014, Summer Camps & Programs (Students), Summer Programs (Students), West Virginia