Posted on
November 9th, 2015
by Mary Lord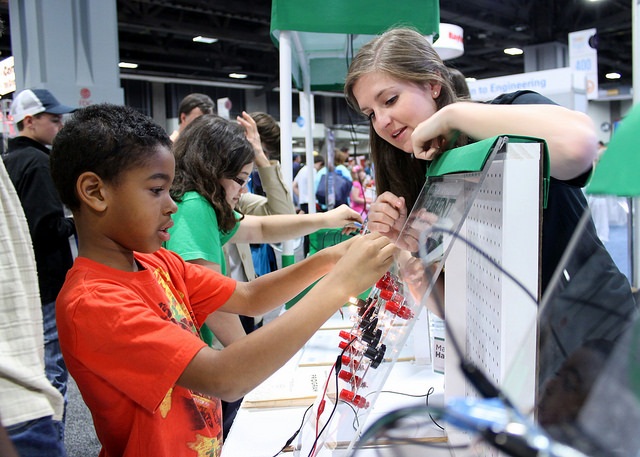 Imagine if you could tap a network of engineering experts and seasoned STEM teachers to provide inspiration, instructional tips, and advice?
That's the vision behind the National Academy of Engineering's new online portal, LinkEngineering Educator Exchange. Learn more about how this website can connect you with preK-12 teachers. engineering experts, lesson plans, and tools at a Town Hall Google Hangout on November 18, 1 to 2 pm EST.
Register HERE. <https://events.r20.constantcontact.com/register/eventReg?oeidk=a07ebruno6m8b9a3d8a&oseq=&c=&ch=>.
Can't make the online town hall? No problem! Feedback from educators and lessons like this four-part unit on  using failure to introduce the engineering design process are just a click away!
Photo of the National Science Foundation's interactive exhibit at the 2014 USA Science & Engineering Festival by Jackie Conciatore, NSF.
Filed under: For Teachers, K-12 Outreach Programs, Web Resources
Tags: Curriculum, expert advice, LinkEngineering, National Academy of Engineering, Resources for Teachers, STEM teacher professional development, Videos, Web Resources, Website