Posted on
January 16th, 2018
by Mary Lord
They sweep floors in the press center, guide travelers at the airport, swim in fish tanks, and even relay the Olympic torch. In South Korea, host of the 2018 Winter Games, robots are as much on display as the athletes. So are such high-tech advances as ultrafast 5G networks, first-person skater's perspectives with KT Corp.'s "time slice" mobile app, and self-driving buses.
That's because intelligent machines and infrastructure are considered key to achieving a healthier, safer, and happier future for the country's 51 million residents.
South Korea has long been a leader in robotics, deploying 'bots as teachers, service staff, and manufacturing workers. An airport cleaning robot developed by LG, for instance, uses mapping and obstacle-avoidance technology to calculate the most efficient pathways for keeping the corridors gleaming. DRC-HUBO, a humanoid robot developed by the Korean Advanced Institute of Science and Technology, won the 2015 Defense Advanced Research Project Agency (DARPA) Robotics Challenge. On December 11, it was the second bearer of the Olympic torch.
Despite their novelty – and pubic appeal – robots aren't always ready for prime time. TheK5, deployed as a security patrol in a District of Columbia office complex, suffered a career-ending fall when it plunged into the lobby's water fountain last summer. And even DRC-HUBO had to be helped back to its feet when it stumbled trying to pass the Olympic torch to the next carrier.
"In our view, artificial intelligence, robots and related solutions are not just new gadgets, but key technologies to support humans," Jae-myoung Hong, senior engineer in LG's Smart Solutions Division, told the BBC. "In some cases, robots may perform jobs that are too dangerous or too complicated for regular workers."
Technology also is at the heart of current efforts to build "ubiquitous cities" – where sensor-studded buildings and ultrafast Internet connections mean no one has to wait in the rain for a bus, circle the parking garage in search of a spot, or fume in frustration while downloading a movie. A February 2013 ASEE Prism feature detailed the experimental smart city within historic Suwon that was being pioneered by SungKyunKwan (SKKU) and its new Department of u-City Design and Engineering.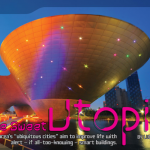 Olympics fans can expect to see further advances when Japan, also a robotics world leader, hosts the 2020 Olympics. The country hopes to ready an  entire "robot village" to assist visitors and athletes. Translation apps already are undergoing pilot tests, as ASEE's Prism magazine reported in a December 2016 feature entitled "Lip Service." And Fujitsu aims to unveil a 3-D sensory system that can help score gymnastics.
Filed under: Special Features
Tags: 2018 Olympics, AI, artificial intelligence, HUBO, KAIST, Robotics, smart cities, South Korea, Technology, translation app