Posted on
March 18th, 2013
by Mary Lord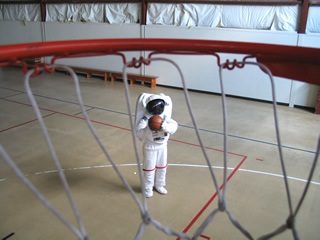 Engineering and science majors may have to log long hours doing labs and problem sets. But that doesn't mean they must abandon their hoop dreams. In fact, engineering student-athletes have long distinguished themselves on the court.
Last year, for example, the Massachusetts Institute of Technology men's basketball team – the Engineers – reached the NCAA Division III Final Four for the first time in program history. Although they fell in that semifinal match to the eventual 2012 national champion, University of Wisconsin-Whitewater, MIT junior Will Tashman, a materials science and engineering major, was named to the NCAA all-tournament team.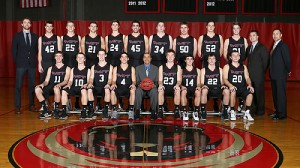 This year, Tashman was named to the National Association of Basketbally Coaches' All-Regional squad. Despite his scoring a team-high 23 points in the first-round NCAA game this year, the Engineers (photo, right) were knocked out by Maryland's St. Mary's College, losing 76 to 85. (A dozen male and female varsity basketball players, most of them engineering majors, were among 29 MIT athletes who made the league's All Academic roster.)
This year, 14th-seeded Harvard upset #3 New Mexico in the first round of the 2013 NCAA tournament, advancing for the first time in the college's history. Co-captain Laurent Rivard is a junior majoring in computer science and played on the Canada's 2012 senior national team. His teammate, sophomore Steve Moundo-Missi, is applied math major.
Engineering students dominated University of Delaware basketball back in the early 1960s. Nat Cloud, a leading scorer and the school's first All American player, was drafted by the New York Knicks after graduation.  The former players recently created a scholarship named for their coach to be given to an engineering student-athlete – preferably a member of the men's basketball team.
Engineering students also have made their mark off court. Reed Doucette, a former University of Southern California men's basketball player and Rhodes scholar, took his game to England while he pursued a doctorate in mechanical engineering at Oxford. In 2005, three Johns Hopkins mechanical engineering students – two of them starters for the women's basketball team – developed a prototype basketball system for the blind that included an audible ball.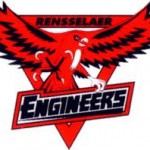 Other colleges with teams named the Engineers: Worcester Polytechnic Institute in Massachusetts and Rensselaer Polytechnic Institute in Troy, N.Y., where 5-11 guard Jamie Zajac, a senior majoring in civil engineering, was named to the Liberty League Second Team. (Four female and six male varsity basketball players made the league's All Academic team this winter.)
Still, excelling on the court and in the classroom isn't easy. Jonathan Thomas, a standout high-school player, spent his first two years at the University of Maryland immersed in mechanical engineering. When he joined the Terrapins in 2012 as a walk-on, some of his professors questioned his sanity for adding the equivalent of a second major.
"They kind of laughed and said, 'How can you be so dumb to do both?'" Thomas told the Baltimore Sun.
In 2009, University of Michigan player Eric Puls left the team so he could finish his engineering degree in four years. Daily practice from 2 – 6 PM was preventing the sophomore from taking the classes he needed for his major.
Filed under: Special Features
Tags: basketball, Delaware, Engineering, engineers, hoops, MIT, NCAA, RPI