Posted on
March 18th, 2013
by Mary Lord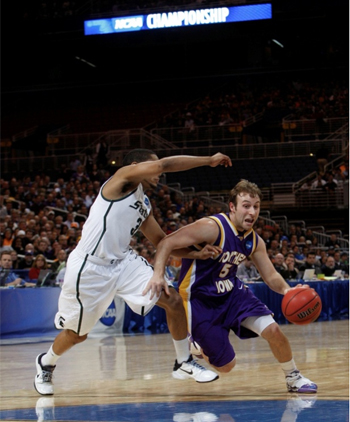 From long-shot "Cinderella" teams to "field goal" averages, "giant killers" and "bracketology," the NCAA Div. 1 men's college basketball championship has generated a host of pet terms and traditions since it first tipped off in 1939. (See the NCAA's new interactive timeline of the past 75 years.) The single elimination "March Madness" tournament now boasts more fans than almost any other U.S. sporting event.  Here's a guide to this year's NCAA Big Dance, which tipped off March 19.
More teams. The NCAA expanded the tournament by four colleges, to a record 68 teams, in 2011. That meant a new "First Four" qualifying match along with the usual "Final Four" championship — to take place in Atlanta on April 8 this year.  Fans can watch every game live online on NCAA.com.
Bracketology.  The basketball handicapper's equivalent of reading tea leaves, this handy, interactive NCAA chart helps fans and newbies alike track their teams.  Some 32 teams earned automatic berths at the Big Dance by winning their respective athletic conferences. The first two rounds whittle down winners for the "Sweet Sixteen" regional semifinals beginning March 28-29, followed by the "Elite Eight" regional finals March 30-31.
Graduation rates. Players showed improved overall graduation rates, according to the latest annual survey by the University of Florida's Institute for Diversity and Ethics in Sports. African American players posted an average 65 percent rate, while the average for white players was 90 percent. The average for programs in the tournament went up from 67 percent to 70 percent. However, six of the tournament's 68 teams – Southern, James Madison, Saint Louis, New Mexico State, Oregon and Oklahoma State – scored below the NCAA's higher new line, which could lead to penalties.
Fairy-tale runs. In 2006 A few years back, little George Mason University in northern Virginia rocked the house by making it to the Final Four. In 2010, the Butler Bulldogs (who?!) were one possession away from winning the national title. 2013 Cinderella contenders and potential "bracket busters" include Colorado State (fourth in rebounds in the nation), Belmont, and North Carolina State. Oregon (12th seed) already has shown 'giant-killer' potential, beating its 5th-seeded Round 1 rival on March 21. Bet on plenty of buzzer-beating upsets, like #14-seeded Harvard's win over New Mexico (#3) in Round 1, the first time America's oldest college has ever advanced.
Scorecard. Never played or watched hoops? Shots from inside the semicircle under the basket count for 2 points; sink one from a greater distance and it's a 3-pointer, or "field goal." Foul shots — from the penalty line — add 1 point to the scoreboard.
Filed under: Special Features
Tags: basketball, bracketology, March Madness, NCAA