Posted on
November 29th, 2010
by ASEE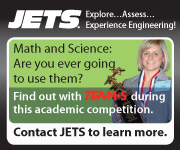 Date: Thursday, February 17, 2011. Location: Arizona State University. Level: Students in grades 9-12.
Arizona State University will sponsor a TEAMS competition for students in grades 9-12, Thursday, February 17, 2011.
TEAMS (Test of Engineering Aptitude, Math and Science) is an annual theme‐based competition that gives students the chance to discover engineering through the practical applications of math and science. Students become part of the action as they answer engineering questions about everyday world challenges.
High school students across the country compete against each other to prove who can put their knowledge of math, chemistry, physics, biology and computer applications to use best in a real-world situation. Student teams work in an open-book, open-note, open-discussion format.
The 2011 Challenge: The need to develop dependable, resourceful and economical, forms of energy.
TEAMS at a Glance
Take students behind-the-scenes of engineering and show them how a little creativity combined with math and science can make a big difference and change the world.
Fun, theme-based academic competition
Real-world applications of math and science
Two Competition Levels: 9th/10th grade level and 11th/12th grade level, Teams of 4 to 8 students
One Day, Two Parts: Part 1, multiple choice questions, Part 2, open-ended questions
Awards: given on local, state and national levels.
Check the ASU WEbsite for more information
Filed under: Grades 9-12