Posted on
November 29th, 2010
by ASEE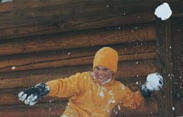 A program of Winter Wildlands Alliance, SnowSchool is a winter ecology education program that aims to expose children to the fun and wonder of their winter environment. SnowSchool sites include unspoiled national forests, nordic ski areas, regional parks, vibrant nature centers and preserves, colleges, universities, and some of the nation's most spectacular national parks.
Each SnowSchool site works with local schools to offer field trips focused on winter ecology. Winter Wildlands Alliance provides support by  providing an approved science curriculum for use out on the snow. Visitors to the online site can find snow-related lesson plans, a page on snow science, and links to other websites.
Leading up to the day of the field trip, students participate in classroom instruction about what they'll experience out in the snow. They explore topics such as identifying wildlife tracks, measuring snow depth or analyzing water content. Then guided by education specialists, biologists, park rangers and other experts on-site, students experience real-life ecology lessons at one of the SnowSchool sites around the country. Back in the classroom, the students review what they learned and participate in follow-up projects.
SnowSchool is an effective, inexpensive outreach tool for local schools and site partners—it touches the lives of thousands of kids each year, including many in underprivileged communities. SnowSchool's impact on students is great—they come away from the experience with new knowledge of the world around them. Many of the kids go on to become enthusiastic snowshoers for life.
Filed under: For Teachers, Grades 6-8, Grades 9-12, Grades K-5, K-12 Outreach Programs, Web Resources