Posted on
February 1st, 2011
by Jaimie Schock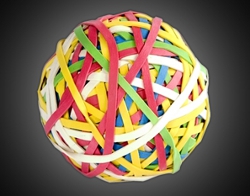 Level: Grades 5-8
Deadline for Entries: Wednesday, February 16, 2011
The Akron Global Polymer Academy of The University of Akron is hosting the third annual Rubber Band Contest for Young Inventors to encourage students in grades 5-8 to demonstrate their creativity and ingenuity by creating an invention that incorporates the use of rubber bands. There will be two separate divisions of competition: Arts & Leisure and Science & Engineering.
Four finalists will be brought to Akron, Ohio, where the first place winner and runner-up in each division, will be announced at an Awards Ceremony on May 14, 2011. The first place winner in each division will receive a $1,000 savings bond, while the runner-up in each division will receive a $500 savings bond*, respectively. The top 8 semi-finalists who are not chosen as finalists will each receive a $50 gift card. The top four schools with the most entries will each receive a $250 donation.
*Savings bond values are at maturity for United States Series EE paper savings bonds.
To enter the contest, the following must be received at the Akron Global Polymer Academy no later than 5:00 p.m. EST on Wednesday, February 16, 2011.
A written description in English that includes the name of the invention, its purpose, how it works, how the idea was created, and how it will be used or make everyday life easier or more enjoyable. The description must be no more than 1,000 words.
A sketch of your invention. A drawing of your invention with a diagram of how it works. Hand drawn or computer renderings are acceptable.
One or more clear photograph(s) of your invention that shows it in full view, and you using it.
Any of the following visuals that would best explain your invention may accompany your entry (optional): a VHS, CD, DVD or Flash Drive depicting the invention and its use. All contest submissions will become permanent property of the Akron Global Polymer Academy and will not be returned.
The young inventor's name, age, grade, school, sponsor (teacher/parent/guardian), address, phone number, cell phone, FAX and email, clearly marked on all mailed items.
Read the official rules and FAQ.
Find some rubber band-themed lesson plans and educational videos here.
Filed under: Grades 6-8, Grades K-5, K-12 Outreach Programs
Tags: Art, Art and Engineering, Competitions for Students, Contest, Contests, Lesson Plans, Materials Engineering, Resources for Teachers, Videos