Posted on
February 1st, 2011
by asee admin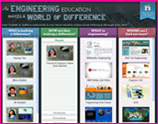 "An Engineering Education Makes a World of Difference" is a new website from the National Academy of Engineering that highlights role models who have used an engineering education to innovate products, processes, and services that improve human health, welfare, and happiness. Twice a week for each week from Monday, January 31 through Thursday, July 14, the site will release a new video (less than 30 seconds long) to be posted to the web and which can be "pushed" to individual cell phones. You can text "CASEE" to 21534 to subscribe to the twice-weekly videos.
In addition to the role models, the site provides links to other sites that explain what engineering is and where visitors can find out more about engineering.
eGFI is featured in the "WHERE can I find out more?" section.
Learn More at http://engineeringaworldofdifference.org
Filed under: Grades 6-8, Grades 9-12, Grades K-5, K-12 Outreach Programs, Web Resources