Posted on
March 23rd, 2011
by Mary Lord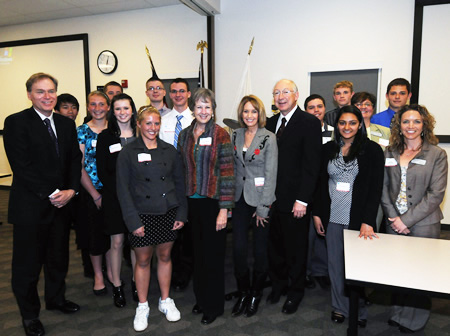 It's spring, and interest in STEM seems to be sprouting everywhere from the White House on down. But what does innovative science, technology, engineering, and math education look like?
Skyline High School in Longmont, Colo., offered Interior Secretary Ken Salazar a good window when he visited its STEM Academy March 21 after a tour at Ball Aerospace, the Longmont Times-Call reported. Students, mostly freshmen and sophomores, gave Salazar and other federal officials an overview of the three-year-old program and examples of their projects, including designing and building a gadget that would allow a disabled elementary school girl to press the button on the water fountain so she could drink from it.
"They were wonderful," said Salazar, noting the importance of STEM to America's economic competitiveness. "It starts with young people like this."
The STEM Academy has a partnership with the University of Colorado's College of Engineering that pairs graduate students with teachers to develop courses and instruction geared toward training future problem-solvers. Students must earn 28 credits for a STEM certificate, instead of the 24.5 needed for a regular high school diploma, and make at least a C in all core and STEM courses. High-performing STEM Academy graduates are guaranteed acceptance in the University of Colorado's engineering program.
[youtube]http://www.youtube.com/watch?v=Q4-cZFe1Wss[/youtube]
Freshman Tim Finnegan suggested that younger students need to learn that engineering is about more than building things; it's about planning and teamwork, too. Tanya Schulz, a junior, said that creating a scale-like device that would activate a lever on the drinking fountain when the young girl stepped on it taught her team the importance of appealing to the client. The device, created in her structural design class, was painted pink and decorated with stickers of cartoon characters.
"It just screams elementary girl," Schulz said.
That structural design class also taught sophomore Huan Nguyen that engineers can't just throw things together to see what works. "You have to plan things out," he said, adding that he learned critical thinking and teamwork skills. "It's pretty awesome — I'm not going to lie."
Justin Ansley, a junior and one of the first students in the STEM program, has appreciated seeing what engineers do. "We know exactly what we're getting into," he said. "We like what we do."
Filed under: K-12 Education News
Tags: Aerospace, Education Policy, Science