Posted on
June 19th, 2013
by Mary Lord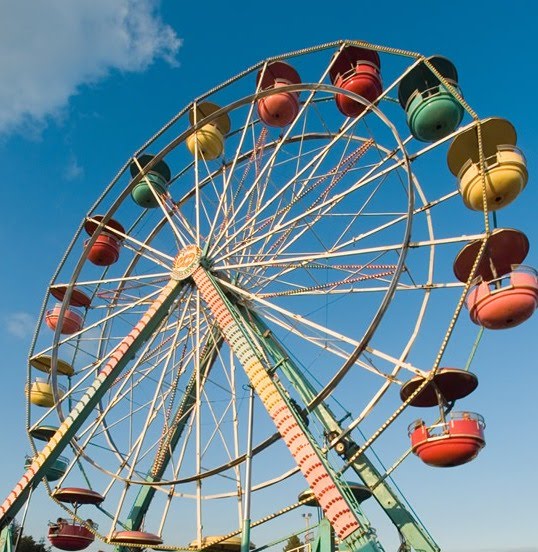 Lesson courtesy of TryEngineering, sponsored by the IEEE. Click here for a .pdf of the original activity.

Summary
In this activity, teams of students learn about the history and engineering behind big wheels (Ferris wheels) by constructing a working model using pasta, glue, and teabags.
Grade level: K-12
Time: Two to three 45-minute sessions
Learning Objectives
Learn about engineering design.
Learn about motion, load, and construction.
Learn about teamwork and working in groups.
Learning  Outcomes
As a result of this activity, students should develop an understanding of:
structural engineering and design
problem solving
teamwork
Standards
National Science Education Standards
CONTENT STANDARD B

: Physical Science As a result of the activities, all students should develop an understanding of properties of objects and materials; position and motion of objects [K-4]; properties and changes of properties in matter; motions and forces; transfer of energy [5 -8] and structures and properties of matter. [9-12]

CONTENT STANDARD E

: Science and Technology As a result of activities, all students should develop abilities of technological design [K-4] and understanding about science and technology. [5-12]


CONTENT STANDARD F

: Science in Personal and Social Perspectives
As a result of activities, all students should develop understanding of science and technology in local challenges [K-4] and in society. [5-12]

CONTENT STANDARD G:

History and Nature of Science
As a result of activities, all students should develop understanding of historical perspective. [9-12]
Standards for Technological Literacy – All Ages
The Nature of Technology
Standard 1: Students will develop an understanding of the characteristics and scope of technology.
Standard 2: Students will develop an understanding of the core concepts of technology.
Technology and Society
Standard 4: Students will develop an understanding of the cultural, social, economic, and political effects of technology.
Standard 5: Students will develop an understanding of the effects of technology on the environment.
Standard 6: Students will develop an understanding of the role of society in the development and use of technology.
Standard 7: Students will develop an understanding of the influence of technology on history.
Design
Standard 8: Students will develop an understanding of the attributes of design.
Standard 9: Students will develop an understanding of engineering design.
Standard 10: Students will develop an understanding of the role of troubleshooting, research and development, invention and innovation, and experimentation in problem solving.
Abilities for a Technological World

Standard 11: Students will develop abilities to apply the design process.
The Designed World
Standard 18: Students will develop an understanding of and be able to select and use transportation technologies.
Motivation/Engineering connection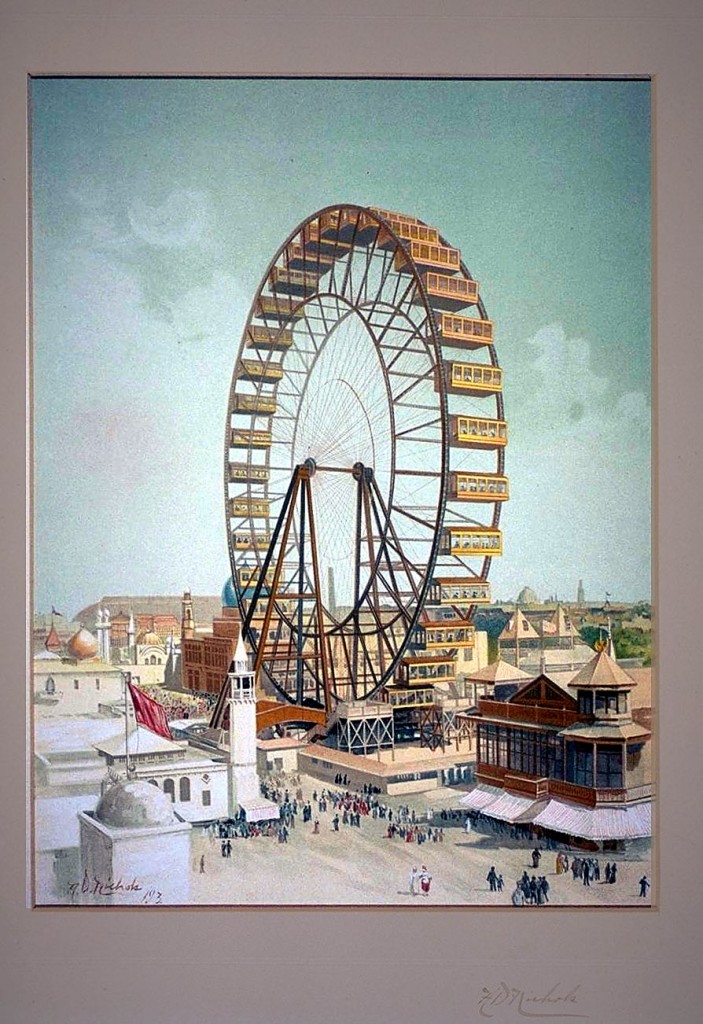 The world's most popular amusement park ride gets its name from George Washington Gale Ferris, Jr., an engineer who designed the first large (80 meter or 264 foot) wheel for the 1893 World's Columbian Exposition in Chicago, Ill. Critics considered his idea crazy at the time. But Ferris, who learned much about steel from working on bridges and railroad projects, figured out a way to build a colossal wheel that was sturdy, elegant, and safe.
This first wheel weighed 2200 tons and could carry 2,160 persons at a time. It rotated on a 71-ton 45.5-foot axle and at the time was the world's largest hollow forging. Powered by two 1,000 HP steam engines, the wheel had 36 cars – each the size of a school bus – that accommodated 60 people each and took 20 minutes to make two revolutions.
The wheel was moved twice after the 1893 Fair and was eventually demolished in 1904 after it was used at the St. Louis exposition of that year.
Materials
To share:
For each group of students:
Glue
String
Paperclips
Paper
Cardboard
Cardboard tubes (such as paper towel or toilet paper rolls)
Quantity of pasta shapes as requested by each team based on their design (note: students will likely come back for more/different shaped pieces)
4 – 8 dry tea bags (for optional weight challenge — dry tea bags serve as the pods or benches for the model pasta wheels)
Procedure
Show students the various Student Reference Sheets. These may be read in class, or provided as reading material for the prior night's homework. To get a feel for the construction, students may wish to visit Build the London Eye Online or London Eye educational resources to explore the components of the London's mega-wheel.
Divide students into groups of 2-3 students, providing a set of materials per group.
Explain that students must develop a turning pasta wheel (you may wish to require "weights" such as tea bags which can be tied onto the wheel).
Students meet and develop a plan for their wheel. They agree on materials they will need, write or draw their plan, and then present their plan to the class. They should consider the stages of construction.
Student teams will request of the "project manager" (you!) the quantity of different pasta shapes they want for their design. They will likely come back and ask for different or additional shapes during construction.
Student groups next execute their plans. They may need to rethink their plan, add materials, or start over. This project may require overnight drying of wheel segments before final construction.
Each student group evaluates the results, completes an evaluation/reflection worksheet, and presents their findings to the class.
Optional: Have students write a paragraph or short essay on the engineering and design challenges of building the London Eye or other Ferris wheel.
Troubleshooting Tips
Pre-glue long pasta strips for extra strength; have wheels rotate around tube from paper towel or toilet paper roll, or PVC pipe.
Activity Extensions
Write an essay or a paragraph about the engineering challenges faced during the construction of either the London Eye or the Singapore Flyer
Additional Resources
The Big Wheel Hyde Park Historical Society (Chicago) article on the construction and history of  the ride George Ferris designed for the 1893 Chicago World's Fair. 
The First Ferris Wheel. Interactive lessons and activities on the design and construction of the world's first big wheel from the Chicago History Museum.
iFairgrounds. Thinkquest's interactive history and timeline of Ferris wheels, carousels, and other popular amusement park rides.
London Eye is one of several mega-wheels. Tour it interactive site, or visit Germany's Bellevue Ferris Wheel and the 42-story Singapore Flyer, the world's biggest Ferris wheel.
Big, Bigger, Biggest A National Geographic D video on the engineering and construction of the Singapore Flyer skywheel. [YouTube 46:48]
Time-lapse photo slideshow of Singapore Flyer under construction. [YouTube 0:49]
Engineering a roller coaster video on the construction of a mega-coaster. [eGFI students' blog post 09:21]
Filed under: Class Activities, Grades 6-8, Grades 6-8, Grades 9-12, Grades 9-12, Grades K-5, Grades K-5, Lesson Plans
Tags: Class Activities, Ferris wheel, Grades 6-8, Grades 9-12, Grades K-5, London eye, motions and forces, Physics