Posted on
June 19th, 2013
by Mary Lord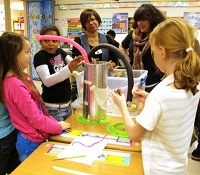 On May 24, Rhode Island became the first state to approve the Next Generation Science Standards (NGSS). Kentucky's state board of education followed on June 5. Both are among the 26 states that helped develop the new academic standards, which include engineering design as a stand-alone strand and emphasize model building and problem solving, and cross-cutting concepts.
The NGSS could soon come up for a vote in several other states. Washington's state board of education has the standards on its July agenda. Michigan had late May penciled in for a vote. And Maine could act sometime this summer.
Meanwhile, a new report from Change the Equation, a STEM education advocacy group, and the National School Boards Association found that relatively few states had aligned graduation requirements to the Common Core state mathematics standards. Out of Sync looked at the Algebra II elements embedded in the new standards and discovered just 11 states in full alignment. Some 13 others are partially aligned, leaving 22 states with graduation requirements at wide variance with Common Core expectations. Some Common Core states are rolling back some of their rigorous graduation requirements; Florida recently removed Algebra II from its requirements, for example, and Michigan may follow suit.
Filed under: K-12 Education News
Tags: Change the Equation, Common Core State Mathematics Standards, Education Policy, Kentucky, Next Generation Science Standards, Public Policy, Rhode Island, science standards, state board of education