Posted on
June 19th, 2013
by Mary Lord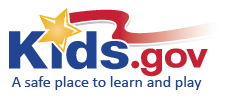 Students can forget a lot of what they learned over the long summer holiday. To help stave off the slide, Kids.gov offers activities for kindergarteners through 8th graders, as well as resources for parents and teachers.
Highlights from the U.S. government's official site include:
Games

:

Who could object to kids playing games online if they're learning about math and science by

solving secret codes from the National Security Agency, or working on word puzzles about the earth from NASA?

Art projects

:

Let your kids get creative with

coloring pages, digital photography projects, and a special collection of interactive painting, collage-making, and animation projects from the National Gallery of Art's NGAkids Art Zone.

Videos

:

Kids can learn about the mysteries of tornadoes with a storm chaser or find out how to handle bullies from StopBullying.gov. They also can learn about careers in archaeology, meet an albino alligator and her keeper at the National Aquarium, and see how money is made.

Outdoor activities:

When your kids are ready for a break from the computer, go with them. The

Exercise, Fitness and Nutrition section for parents

is full of ideas to keep your family in shape, including Recreation.gov's collection of family friendly ideas for exploring America's beaches, mountains, and cities.
Join Kids.gov for a live Twitter chat to talk about fun and educational activities you can do with your kids this summer.
When: Thursday, June 20th, 1pm ET
Where: Twitter. Follow @kidsgov and use #kidsummer to join the conversation and find new activities for your kids this summer!
Filed under: Grades 6-8, Grades K-5, K-12 Outreach Programs, Web Resources
Tags: Internet Resources, Resources for Teachers, Technology for Learning