Posted on
April 30th, 2018
by Mary Lord
Their
human-powered helicopter
 hovered into the history books, staying aloft for over 60 seconds and winning the $1 million Sikorsky prize from the American Helicopter Society.
Then a team of University of Toronto engineering graduates and students led by Cameron Robertson sought to create the world's fastest human-powered bicycle.
AeroVelo
's prototype vehicle, dubbed Eta after the Greek letter that symbolizes 'efficiency,' is a two-wheeled bullet designed to significantly surpass highway speed limits on less than 1 horse power. 
Aerodynamic
 sheathing and a high-performance transmission could enable the vehicle hit a projected top speed of 
145 km/hr (91 mph).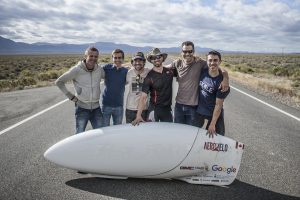 In September 2015, Aerovelo's Eta Speedbike set a new world record in human powered speed by going 139.45 km/hr (86.65 mph), besting the record of 133.8 km/hr (83 mile per hour) set by a Dutch vehicle at the 2013 World Human-Powered Speed Challenge at Battle Mountain, Nevada.
In addition their record-breaking 
Atlas human-powered helicopter,
 AeroVelo's innovation lab also designed the world's first a 
human-powered ornithopter, the Snowbird
.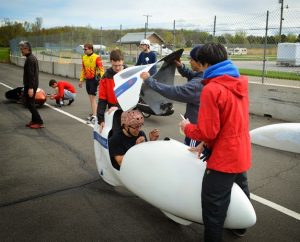 AeroVelo spent years refining the Speedbike's design, testing several models (2014 photo, below) and suffering setbacks. Eta's success, however, rests as much on the "pedal power" of the athletic team members training and driving it as on the engineering and design.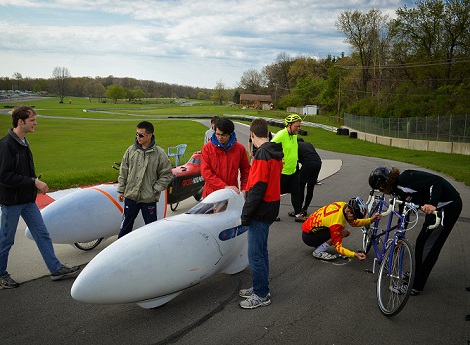 Filed under: Special Features
Tags: Aerovelo, Battle Mountain, Engineering, Eta, University of Toronto, world's fastest human powered vehicle