Posted on
April 30th, 2018
by Mary Lord
In her "day job" as a professor of electrical and computer engineering at the University of San Diego, Pamela Cosman researches such issues as data compression and streaming high-quality videos. She's also the mom of four boys. So when her son's second-grade class invited her to talk about her work, Cosman hit on a kid-friendly explanation: demonstrating basic error-correction coding by sending secret messages.
Inspired by the students' enthusiastic response, Cosman spent her spare time writing a draft of what eventually became The Secret Code Menace. As  this glowing review – the first in eGFI's Kids' STEM Picks – by fourth grader Zoe Miguel (photo, below) indicates, the tale of three friends, bank robbers, and the science of secret codes is sure to appeal to aspiring techies and non-tech students alike. Cosman also created an instructional guide with questions, problems, and answers.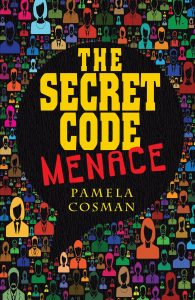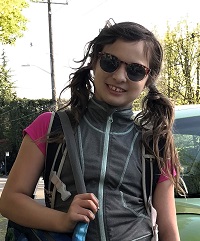 Instructional Guide & Problem Sets [PDF]
Ransom Publishing, 2015. 204 pages. Click HERE to order from UCSD bookstore or from Amazon.
Book Review by Zoe Miguel
If you are looking for adventure, you have found the right book!
This book isn't just about adventure, you will learn some things about codes. The main characters are Sara, Daniel and Jared. They go to the same school, Jared and Sara are brother and sister, while Daniel is their cousin. They have a secret code, so they send notes in class without anyone knowing what they say. For example, 1100 means "what time is it?" and 0111 means "I am happy."
On the first day of school, Daniel sends Sara a note – 1111 – but it gets changed. That's because Sara and Daniel sit at opposite sides of the class room and must have people pass the note along their seating row and somebody changes the code to 1110. Modifying part of the code can mean disaster, and that is bad!
Daniel, Sara and Jared learn a few different ways to make the messages harder to get messed up or changed. Then something horrible happens and they use the secret code to solve it. I don't want to give away what happens. I think you are going to have fun reading this book; I couldn't put it down!
I recommend reading this book, it should definitely be the next book you read. If you are looking for a new book to read, then your search is over! I think that I would give this book 4.99/5 stars.
Filed under: Grades 6-8, Grades K-5, K-12 Education News, K-12 Outreach Programs, Special Features
Tags: book review, coding, Computer Engineering, Curriculum, Electrical Engineering, forensic, Pam Cosman, Resources for Teachers, software engineering, STEM books, STEM education, The Secret Code Menace, Women in Engineering