Posted on
July 5th, 2010
by Jaimie Schock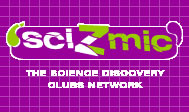 The Science Discovery Clubs Network's SciZmic website provides in-depth help with creating, running, and funding a science club. Activities and projects for use in a science club are available here.
Here are some of the SciZmic highlights:
No two science clubs are the same, mainly because they are run for different reasons, by different people, in different environments, for different children. The first thing you should do is run through a checklist of questions, which can be found here.
Starting or re-starting a club
Starting a science club can seem daunting. It is on many people's 'to do' or 'wouldn't it be nice if' lists. Why does it never move from there? Support from more senior staff? Time? Money? It is probably a combination of all these things. First, it is strongly recommended that you get some help – it can be time consuming! Second, start small. Consider holding an initial kick off event to get people interested, invite a speaker, or have a host of activities for people to try.
Recruiting members
Start small! A small group of dedicated members will help you get on your feet and build ideas before working with a larger group. One idea is to start by running a couple of events, and getting interest going that way. Posters around the school can attract interest. Advertising in assemblies is another option (why not do a science demo, or have a "ready steady science" assembly. Get 4 people, in 2 teams to do a science demo and vote for the best one – with prizes of course!)?
Keeping members
Science clubs, like all clubs, can face a drop off in numbers. There are several ways to address this.
Work towards an "event," either a science fair, something for science week, a field trip, a national competition. But be warned, some pupils may feel excluded from competitions, if they feel they won't be going along on the day. Keep it focused, run the club for a term or even a week. Get the members to choose the next activity or project (it will save you work too!). Bribery and rewards work. The end of term party and small prizes for competitions help.
But what will we do?
Do something you wouldn't normally do in lessons. This could be because of time constraints, curriculum constraints, or because the topic is not traditional "science lesson" material. For example, robots might be thought of as computer science or technology, and you sit in a biology department. Some club leaders like to have the 'year's' activities planned in advance, at least the themes if not the exact content. Ask the students to help you with topics. Don't be afraid of asking other clubs — they will be happy to share ideas! Have some quick filler activities for those who finish first: quizzes, word searches,  and quick problems all go down well.
But how will we pay for it?
You may be able to get funding from local businesses. Investigate out-of-hours learning funding your school may already receive. Try your PTA – they may be able to help you with start up costs. Try working with other clubs, to cut costs. If you do get a budget, keep it separate from the Science Department budget.
Practical matters
Choosing a name and a space – A science club doesn't need a special name, but it can help recruitment. Consider asking the pupils to suggest a name and have a vote. If you can, always use one room. Keep a corner of it for the science club. You can keep records of their activities here and encourage them to provide materials for displays.
Equipment – If you can afford separate equipment – buy it! However, if you are not so lucky, make sure your technicians are involved. You may need to ask them for equipment. You may also find that there is a loan scheme for schools and clubs in your area. If you need equipment to start you off, consider asking a PTA for assistance.
Timing – Will you run your club in a lunch hour or after school (and what other clubs will it clash with)? This will affect what you can do in your club. For instance, will you need to clear up quickly to allow another lesson to take place after the club?
Extra help – Science clubs can be easy to run, but an extra pair of hands is always useful! Some schools even pay external staff to run clubs.
Be prepared – Know exactly what you are going to do at each session.
An older year can help run a club for a younger year – For example, for a 7th grade club, ask the 8th graders to help out. Or, try getting older students to run the club. This not only helps them develop their interpersonal skills, but consolidates some of their science at the same time.
Clubbing together – One very successful model is to work with other clubs in your area. You can share ideas, resources and hold joint events. You may even get access to funding. Spending together saves money!
Projects or activities? – Some clubs work towards specific goals, such as awards and young engineer's competitions or festivals. Other clubs choose an activity to run during 1 – 2 club sessions. The kind of club you run will depend on the pupils, the time you have, and the resources available.
Involve the club members – We can't repeat this enough. The more the members feel it is their club, the more dedicated they will be (and the less work you will have to do). Some things they could do include thinking up activities, setting them up, cleaning up afterwards, preparing displays, and keeping a log book.
Above all, enjoy it. If you don't, they won't!
Filed under: Web Resources
Tags: Internet Resources, STEM Clubs, Teaching Aids, Web Resources, Website