Posted on
April 19th, 2010
by ASEE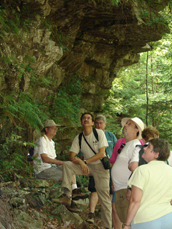 Dates: July 18-23, 2010. Location: Southern Environmental Center, Birmingham Southern College, Birmingham, Alabama. Eligibility: K-12 Alabama teachers. Costs: All expenses, include housing, meals, and materials paid. $50 deposit refunded upon completion of workshop.

2010 Legacy Summer Teacher Institute

The Legacy Summer Teacher Institute is a comprehensive training course for Alabama teachers interested in learning about environmental issues. Participants are trained to integrate topics such as pollution prevention, ecology, waste management, and natural resources into their classroom curriculum. The Institute is designed to equip teachers with hands-on teaching strategies, field experiences, and content material relevant to protecting our environment. The teachers participate in hands-on activities, presentations by classroom teachers, educational and exciting field trips, and content presentations by environmental experts. Participants receive a Certificate of Completion and Professional Development Hours and many FREE classroom materials.
Any K-12 teacher currently teaching in Alabama is eligible to attend the Institute. Legacy pays all expenses for the Institute including housing, meals and materials. A $50 deposit is required with the application and will be refunded upon completion of the workshop.
The number of participant slots is limited. Click here for the application.
What is Legacy?
Legacy, Partners in Environmental Education, is a not-for-profit organization working to create environmentally responsible citizens. The organization operates through a grassroots partnership network to develop and disseminate fact-based, balanced environmental information.
When and where is the Summer Teacher Institute held?
The 2010 Legacy Summer Teacher Institute will be held at the Southern Environmental Center located at Birmingham Southern College in Birmingham, AL. The dates of the Institute are July 18-23, 2010.

When will the Institute start and end each day?
The Institute is designed to be residential, with teachers from across the state living on campus at Birmingham Southern College. Activities are planned throughout the six days, beginning between 7:30 and 8:30 a.m.  The days end at different times, allowing  flexibility to cover needed content, while mixing in some fun activities. Many days involve a two-hour dinner break, with activities resuming after dinner and ending between 8:00 and 9:00 p.m.
What environmental topics are included ?
Ecology – endangered species, food webs, habitat protection
Natural Resources – water, wildlife, forest, farming
Pollution Prevention – pollutants, sources of pollution, solutions
Waste Management – recycling, composting, incineration
What do participants have to look forward to?
Hands-on activity presentations by classroom teachers
Educational and exciting field trips
Content presentations by environmental experts
Certificate of Completion and Professional Development Hours
$100 gift certificate Stipend
Lots of FREE material
Who is eligible?
Any K-12 teacher currently teaching within the state of Alabama, any person about to or who has already graduated with an education degree, graduate students with an education degree and other environmental educators are eligible. Application slots are limited.

Additional Note:
Some of the field trips include fairly rigorous outdoor activities, including canoeing and hiking. Please let us know in advance if you have health concerns that may limit your participation in these events.
For additional information, please check the Website or contact: Toni Bruner, Program Coordinator – toni@legacyenved.org Legacy, Partners in Environmental Education Summer Institute P.O. Box 3813, Montgomery, Alabama 36109 Tel; (334)270-5921 Fax: (334) 270-5527
Filed under: For Teachers, K-12 Outreach Programs