Posted on
May 24th, 2010
by ASEE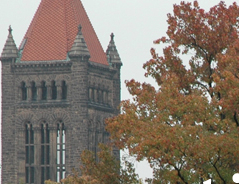 Dates:  July 28-30, 2010.  Eligibility: High School Teachers of math, biology, and chemistry. Location: University of Illinois at Urbana-Champaign. Stipend: $200, housing, food and travel allowance.
The MIST Teacher Workshop introduces high school teachers to the structure and teaching strategies used in the Merit Program at the University of Illinois at Urbana-Champaign. The main goal is to help teachers feel confident in implementing this new method in their classrooms. In addition, we aim to introduce you to other teachers in your subject area to create a community of support where teachers can feel comfortable discussing Merit teaching methods as well as any problems or successes. A description of the Program, along with evidence of its success, will be given; however, the majority of the workshop time will be devoted to experiencing the Merit teaching style and giving teachers the opportunity to develop materials they can take back to their own institutions.
The MIST Teacher Workshop is funded through an NSF grant.
We have a total of 42 seats available, but they must include a balance between high school and community college instructors across the disciplines of math, chemistry and biology.
We are very interested in having teams of teachers come as a group, so we encourage you to invite your fellow math, chemistry and biology teachers from your school or nearby schools to join you. With this as one of our goals, preference will be given to teams of at least two people.
As part of our continued support for teachers, please expect to attend two follow-up meetings (Fall & Spring). Our goal is to allow teachers to have time to work with the Merit-style in their own classrooms and then come back for additional support. We will be discussing any questions you may have; go over any concerns, stumbling-blocks, frustrations; and provide an opportunity for you to share your own personal experience with the Merit-Style in your classroom. Financial Support for these follow-up meetings will be available.
All participants will receive:

A stipend of approximately $200
Continuing Education Credit: approximately 15 contact hours towards CPDUs or CEUs
Lodging at the Illini Union located directly on the campus quad
Breakfast, lunch and snacks




Travel reimbursement is available:

In-state driving – up to $200
Contiguous states driving – up to $275
Contiguous states by air – up to $350
Other outlying areas by air – up to $500
Application:
Please read the full Website description of the program before submitting the online application.
The 2010 MIST Summer Teacher Workshop is possible with a grant from the National Science Foundation (NSF).
Filed under: K-12 Outreach Programs
Tags: Biology, Chemistry, Math teachers, Programs for Teachers, Summer Programs (Teachers)