Posted on
March 25th, 2014
by Mary Lord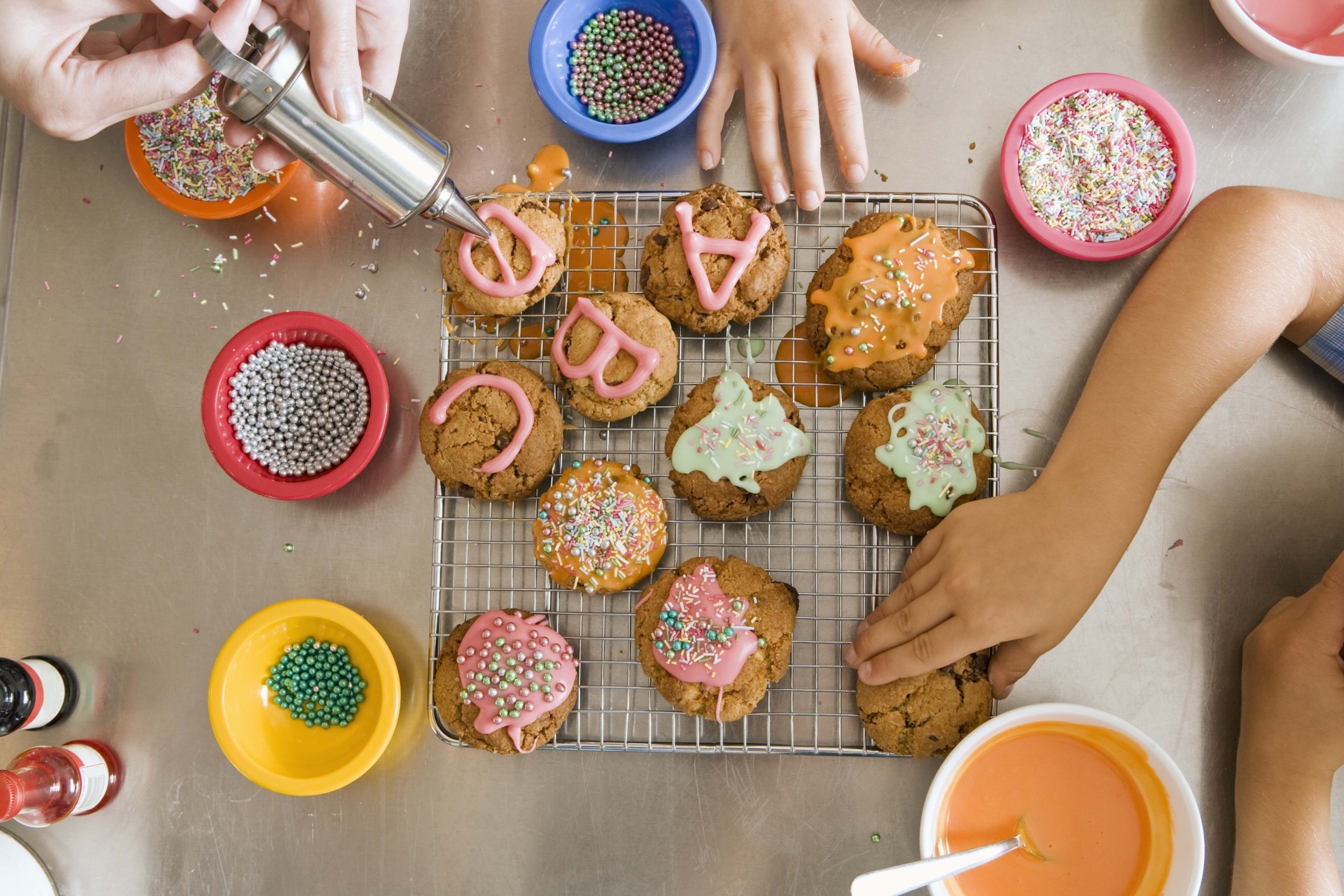 Activity contributed by Susan Freeman, Senior Academic Specialist, Department of Mechanical and Industrial Engineering, Northeastern University College of Engineering.
Summary
In this delicious undergraduate activity modified for middle school use, teams of students in grades 6 to 8 learn about the field of industrial engineering and efficiency by creating an assembly line to pack as many snack bags in 2 minutes as possible. They then see if they can improve their process.  Note: Can be combined with the Just A Minute! activity.
Grade level: 6 -8
Time: 45 – 60 minutes

Learning objectives
After completing this activity, students should be able to:
Collect data to frame and solve problems
Connect time with task completion and productivity
Understand that work can be broken down into discrete tasks
Develop ways to improve a process ("work smarter, not harder")
Understand the role of industrial engineers in making systems more efficient.
Standards
Common Core State Mathematics Standards
International Technology and Engineering Educators Association
Power is the rate at which work is done. [Grades 6-8]
National Science Education Standards
Science as inquiry – systems, order, and organization [Grades 6 -8]
Next Generation Science Standards
Science and Engineering Practices 3: Planning and carrying out investigations
Science and Engineering Practices 4: Analyzing and interpreting data.
Science and Engineering Practices 6: Constructing explanations and designing solutions.
Engineering Connection/Motivation
Ever wonder how snack makers assemble and ship such uniform packages of cookies, chips, and candy? Industrial engineers use the design process – Ask – Imagine – Plan – Create – Improve – to examine every part of the manufacturing system  and find ways to make the work easier and more efficient, which saves costs and helps keep companies in business. (Click HERE for an eGFI lesson plan on the design process.)
Take a simple example.  What would you need to open a pizza shop? You'd have to pay for flour, cheese, and other ingredients. You'd have to pay people to make and deliver the pizza. There's also rent and advertising costs. The more efficiently your pizza parlor can assemble and deliver pies, the more likely it is to turn a profit.
Time management – figuring out how long you will need to complete a homework assignment or chore — is an important life skill. It's also a key element in the work of industrial engineers. They organize the people, materials, and equipment involved in production, and improve systems by breaking big jobs into smaller chunks and studying how to make tasks easier.
Materials
Note: Amounts for 20 children include 100 of each size of plastic bag, 4 bags of cookies, one large container of sprinkles, 2 boxes of Cheez-Its, 2 containers of frosting,  2 large bags M&Ms, paper and markers for each groups, a knife for each group, 3 cups per group to hold sprinkles, frosting, and candies.  Adjust the amount per snack bag depending on what you have and size of group.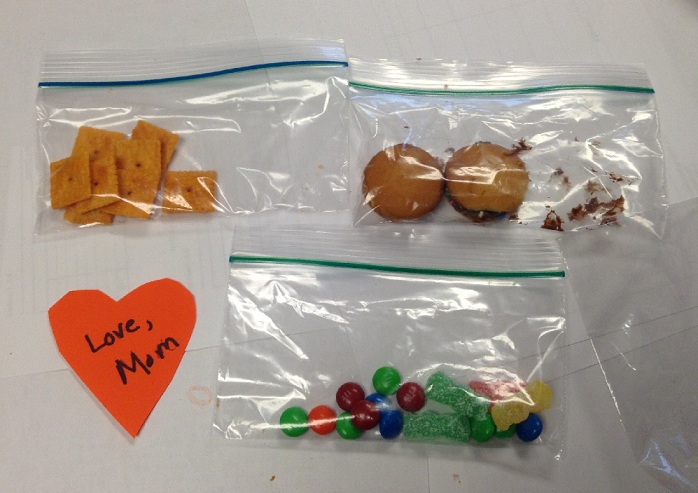 A complete snack bag (above) must contain: 1 small bag with 12 M&M's and  4 Sour Patch Kids; 1 small bag with 8 Cheez-its; 1 small bag with two cookie sandwiches; 1 note (any shape) from Mom that says "have a good day" or "love from Mom."
For each group of 3-5 students:
Very small snack bags
Sandwich bags
Cookies (small, such as the small chips ahoy or vanilla wafers)
Sprinkles
Frosting
Cheez-Its
M&Ms
Sour Patch Kids or other candy
Paper
Markers
Scissors
Plastic knife for frosting cookies
Small cups to separate M&Ms, sprinkles, etc
Plastic table cloth (optional)
Stopwatch or timer
Procedure

1. Create teams of about 4 students per group.
2. Explain that their task is to create an assembly line to pack as many snack bags in 2 minutes as possible. (Students or teacher can time the 2-minute task.) Only completed snack bags count.
3. Each snack bag will contain a small bag with 10 M&M's and 4 Sour Patch kids; another small snack bag with 2 cookie sandwiches; another snack bag with 8 Cheez-its; and a heart shaped note from Mom.
The cookie sandwiches consist of two cookies, frosted, sprinkled, and put together. (Photo, below)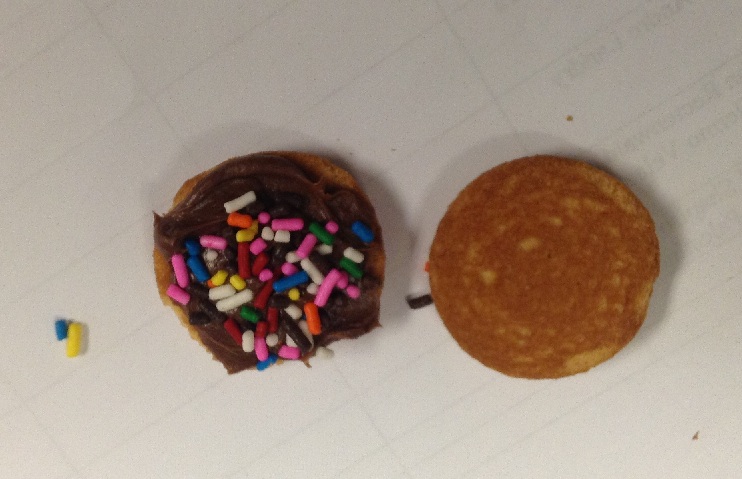 4. Students must organize and are allowed to lay out the area beforehand.  They can shift people as needed as time progresses and they must complete their bags.
5. If time permits, repeat – but with less time.  Ask teams to find ways to improve their process.
Reflection/Assessment
Have students discuss what works best in assembly lines. What worked? How they would improve their assembly line?
Activity scaling
This activity, modified for middle-school students, is the first in a series of hands-on labs used in Northeastern University's engineering program to introduce students to industrial engineering's process-and-method improvement and get them thinking about "Working Smarter, not Harder."
High-school students can do the original undergraduate activity. Give each team 40 small cookies, frosting, sprinkles, squirt frosting, plastic wrap, and ribbon along with some foil to lay on the tables and small knives.  Instruct them to make as many "cookie treats" – cookies with everything on top – as they can in 90 seconds.  Also tell them that each cookie must be individually wrapped to qualify as "complete."  Only completed "cookie treats" count.
Give the students a few minutes to discuss their method and set up, and then time them. Before the next 90-second trial, have the groups discuss how their assembly process worked, and what changes they will make in the method and process to improve the throughput.  Northeastern students receive a handout with questions for the teams about what they have learned, how they would apply this to a manufacturing facility, what equipment would help, and any suggestions. The class can then have a discussion about what Industrial Engineering is and what they have learned from this experiment.
For students in grades 3 and up,  have them create bar graphs or other mathematical representations comparing their assembly line's efficiency between first trial and second trial.
For elementary students, reduce the number of items a complete snack bag must contain and reinforce the connection between time, motion, and efficiency by first having them do the Just A Minute! activity.
Watch how Oreo cookies are made (Discovery's Science channel)
[youtube]http://www.youtube.com/watch?v=-i1oMwNgH2Q[/youtube]
Additional resources
Industrial Engineering LIVE! Northeastern Prof. Susan Freeman's 2005 American Society for Engineering Education research paper on classroom lab activities used in an Introductory Industrial Engineering Course.
A Woman Who Made Work Easier. An eGFI Teachers' feature for Women's History Month on industrial engineer Lillian Gilbreth, pioneer of time and motion studies with her husband, Frank, and matriarch of the family in the beloved children's classic, Cheaper By The Dozen.
Meet Industrial Engineer Pamela McCauley Bush An entrepreneur and industrial engineer featured on the eGFI Students' trailblazers blog. Also check out the eGFI Students' Industrial/Manufacturing Engineering pages.
Bricklayers: A time-motion study. A sample of Frank and Lillian Gilbreth's pioneering use of film in the 1920s and 30s to study workers' motions and make improvements. '[YouTube 1:31]
Time and Motion. Professor Tim Strangleman talks on BBC1′s One Show about time and motion studies in the workplace, including the tensions between labor and management this 100-year-old management theory initially fueled. [YouTube 5:31]
The Easier Way Made in consultation with a University of Iowa industrial engineering professor, this 1946 General Motors black and white film uses a dining-room table demonstration of how time-motion studies can make tasks easier and faster. [YouTube 12:31. Demonstration starts at about 6 minutes.]
What is Industrial Engineering? Ohio State industrial engineering students explain what industrial engineers do and why they chose this major. [YouTube 9:32]
Filed under: Class Activities, Grades 6-8, Grades 9-12
Tags: assembly line, Class Activities, cookies, Grades 6-8, Grades 9-12, Industrial engineering, industrial process, Lesson Plans, measurement, Northeastern University, snack, Systems Engineering, time motion studies