Posted on
February 6th, 2011
by Jaimie Schock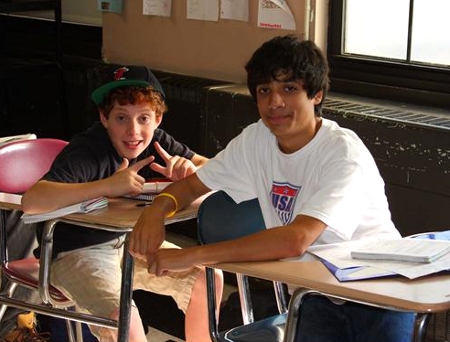 Ossining High School Students (Ossining/Quiroga)
When the prestigious Intel Science Talent Search semifinalists were announced last month, two high schools had more — eight each — than any other in the country.
One was New York's famously selective Bronx High School of Science. No big surprise. The other was Ossining High School, part of a very diverse, increasingly Hispanic town in Westchester County, best known for Sing Sing Correctional Facility.
What's Ossining's secret? "It's difficult to explain, but the best way I can put it to you is that science research is now part of our culture," says Angelo Piccirillo, the science teacher who started Ossining's science research program in 1998 with just three students. Today, there are 90 students, with 30 freshmen accepted from more than 100 applicants each year. The program includes guidance on research topics, mentors, and help with writing papers and presenting them.
Filed under: K-12 Education News
Tags: Competitions for Students, Latino Students, Minority Group Students, Programs for Students