Posted on
September 6th, 2010
by Jaimie Schock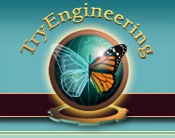 TryEngineering.org's Ask an Engineer website offers an archive of academic and career-oriented questions for engineers and their answers. Users can browse the most frequently asked questions, look through the full archives, or isolate the questions and answers by topic.
Topics include  careers, universities, degree fields, interviews with engineers, emerging technologies, women in engineering, and general questions.
TryEngineering also provides an Ask an Undergraduate Student website.
Filed under: Web Resources
Tags: Ask an Engineer, Internet Resources, Mentoring, Web Resources, Website