Posted on
September 6th, 2010
by Jaimie Schock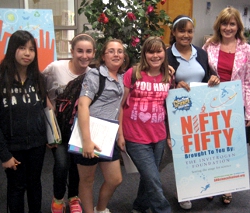 The Nifty Fifty are a group of engineering and science professionals chosen to fan out across the Washington, DC area October 12 -20 to speak about their work and careers at various middle and high schools.
Each speaker will make at least one, three-hour commitment, where they provide their own visuals, such as videos and other multimedia technology, cool demos, research samples, and handouts. Nifty Fifty talks will be no more than 35 minutes, with an additional 15 minutes for Q&A. Speakers will also  stay at least 1.5 hours after their talk to have lunch at the school with a subset of interested students.
The speakers are from all areas of science and engineering and are dynamic, recognized in their field, and passionate about what they do. They have the proven experience and desire to communicate that passion to young students in engaging, interactive ways. The talks are not only intended for youngsters who may be interested in science and engineering careers, but also for kids who may not be as enthusiastic. The challenge for the Nifty Fifty speaker is to engage everyone.
They will communicate (or preferably meet) with the assigned classroom teacher at the school at least 30 days before the scheduled Nifty Fifty presentation to discuss the level of student understanding of the speaking topic, and coordinate the contents of the talk, audiovisual needs, logistics, and other matters.
The speakers' talks will center on three key areas: the science and/or engineering they are passionate about, their career path (including how they became interested in what they do, who or what influenced them as young students, and stumbling blocks or challenges they encountered along the way), and what opportunities they see for young people in their field.
This lecture series is part of the 2010 USA Science and Engineering Festival.
Filed under: For Teachers, Grades 6-8, Grades 9-12, K-12 Outreach Programs
Tags: Lecture Series, Mentoring, Resources for Teachers, Teaching Aids, USA Science and Engineering Festival 2010