Posted on
October 16th, 2011
by ASEE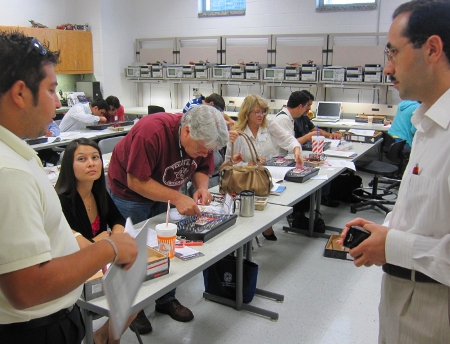 Bora Karayaka (far right) leads a hands-on activity session during a 2010 nuclear engineering workshop at Texas A&M-Corpus Christi.
The very mention of nuclear energy elicits fear and distrust among many, particularly in the wake of events like Japan's Fukushima Daiichi plant meltdown.
Still, nuclear energy is not going away. While the March earthquake, tsunami, and nuclear crisis in Japan have heightened concern about safety, nuclear power is viewed by key Washington policymakers as an essential part of an energy portfolio that eventually weans the country off imported oil and coal, which contribute to climate change.
There are 65 currently operating plants in the United States, providing 19.6% of the total electric energy generated in 2008 and making the nation the world's largest producer of nuclear energy. Many of today's nuclear workers are nearing retirement, and most potential employees will need specific training in nuclear and electrical technology to enter the field. In an effort to meet rising workforce demand, universities and their industry partners are reaching out to classroom teachers for help.
One center of this activity is at Texas A&M University-Corpus Christi. In a partnership with the main campus' Nuclear Power Institute, created to train science and engineering students for careers in nuclear power, a comprehensive professional development workshop was held for K-12 teachers in July 2010.
Developed by a team that included mechanical engineering professor Bora Karayaka and program coordinator Ruby Mehrubeoglu, the five-day event was designed to help teachers weave nuclear engineering into their curricula. Its packed schedule of lecture and lab sessions, special guest speakers, and field trips to a nuclear power plant and an oil refinery was designed to introduce beginners to the world of electrical and digital systems in the context of nuclear power.
Rahman Rasulzada, an enthusiastic computer science teacher at the School of Science and Technology in Corpus Christi, was among the participants. Though he learned vital engineering concepts alongside 19 peers from area middle and high schools, his students may have benefited most through getting to use new equipment under his guidance. The circuits and other electrical components provided by Texas A&M or bought with the workshop's $500 stipend were only made available during afterschool club use—an unfortunate byproduct of a curriculum already filled to the brim—but the students still embraced the opportunity. "They love [working with the equipment] so much," Rasulzada explains, adding that five of his students changed their minds about their career paths after getting a chance to work directly with the gear. They now want to become electrical engineers, he says, including one student who set his sights on becoming a doctor.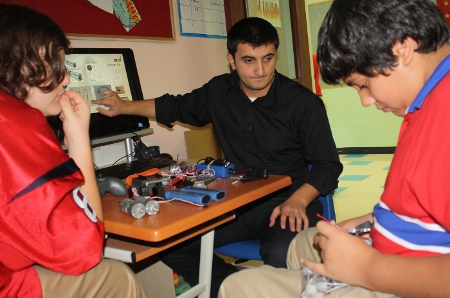 Rahman Rasulzada and his students work with electrical components.
"Teachers have a lot of influence on the paths students take," says Karayaka. They're in a "better position to encourage students," and training them instead of targeting students directly results in a "better return" on the investment.
At Purdue University, the student chapter of the American Nuclear Society (ANS) held its first day-long teacher workshop on nuclear science in April 2010. For a $30 registration fee, 18 teachers soaked in six hours of lecturing on nuclear physics, power, technology applications, history, career paths, the Purdue Nuclear Engineering program, and more. Ten undergraduate and graduate students from Purdue ANS gave the lectures. The educators performed classroom activities scattered throughout the day, including a simple one featuring M&Ms that teaches the concept of half-life by having participants drop the candies on a table and count the ones with upward-facing Ms.
At the day's end, the teachers toured Purdue's research reactor and the Radiation and Surface Science and Engineering Laboratory. The national ANS Outreach department supplied each person with lesson plans and activity ideas. Amongst a range of materials, the student chapter added estimated prices for making the class activities, a list of Indiana state science standards related to nuclear topics, and digital copies of all the presentations. The group plans to hold the workshop again in 2012.
The future of the Texas A&M workshop is less certain. Some 90 percent of the participants expressed interest in attending workshops along the same lines, and Rasulzada says the university should keep them going. "[Teachers] need to attend these types of workshops to improve ourselves," he explains. Karayaka says the team would be more than happy to do the workshop again or one like it. They put on a similar program about wind energy last summer, but the team will need additional funding for another nuclear workshop, a hurdle which could prove daunting.
In the meantime, the teachers have begun to use their new materials and knowledge to teach elements of nuclear engineering at the grade school level. Along with the School of Science and Technology, Harmony Science Academy-Loredo and Corpus Christi Independent School District (CCISD) report that they incorporated some of what the teachers learned as well as the materials. CCISD did so with direct help from the university.
Rasulzada thinks some of his students will choose to go into nuclear engineering, and he hopes other teachers get a chance to receive the same brand of engagement, either though Texas A&M or other universities across the country.
Filed under: Special Features
Tags: Electrical, Electrical Engineering, Energy, Nuclear Engineering, Nuclear Science, Programs for Teachers, Teacher Training, Teacher Workshops, Teachers, Workshops