Posted on
May 11th, 2012
by Mary Lord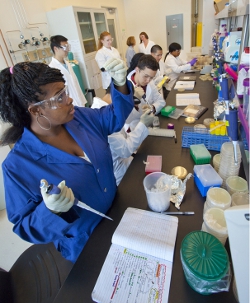 The much-anticipated first draft of the Next Generation Science Standards (NGSS) was released for public comment May 11, a day after a new federal study showed slim gains in science proficiency among the nation's 8th graders. The feedback period runs until June 1.
The standards, which include engineering and design among the crosscutting concepts and core ideas, represent a profound shift in what students will be expected to know and be able to do in science. They are being written by educators and experts in 26 states in a process managed by Achieve. Based on A Framework for K–12 Science Education, issued last summer by the National Research Council, the NGSS will influence curriculum, teacher professional development, and assessment for years to come. Thus, groups like the National Science Teachers Association hope educators, administrators and others interested in shaping the future of science education with review the draft standards and provide comment on Achieve's dedicated website.
The comment period opens just as the National Assessment for Educational Progress (NAEP) released results for the 2011 science test. The so-called "nation's report card" shows that while there has been slight progress since the 2009 test, only one third of America's 8th graders are proficient or advanced in science. And a third still lack a basic understanding of the physical, life, and earth science, and the gender gap persists, the Washington Post reports.
The NAEP asked teachers and the 122,000 students who took the test about their science education experiences. Their responses suggest that a little engineering — and informal science experiences — could go a long way toward boosting proficiency:
Students who reported that they regularly performed hands-on science projects in class scored higher than students who less frequently did that kind of class work.  56 percent of students had teachers who said they did hands-on activities once or twice a week up to daily.
Students who worked in teams on science projects at least once a week (47 percent of students nationwide) scored higher than peers who had worked on projects once a month or less frequently.
About 32 percent of students said they did science-related activities OUTSIDE of school that was not related to schoolwork. They scored significantly higher than peers who did not.
See a summary of the NAEP national and state-by-state results.
Filed under: For Teachers, K-12 Education News, Special Features
Tags: 8th grade science results, Achieve, comment, Design, Engineering, learning standards, NAEP science, nation's report card, new science standards, Next Generation Science Standards, NGSS