Posted on
January 29th, 2016
by Mary Lord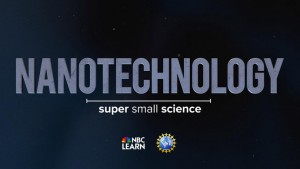 Nanotechnology – an emerging field that measures materials in billionths of a meter – is showing up in products from cosmetics and sunblock to pharmaceuticals and water-repellent coatings.
In the past 15 years, the federal National Nanotechnology Initiative (NNI) has invested more than $22 billion in research to understand matter at the nanoscale level and develop applications that benefit society. As these applications proliferate, some scientists and educators have pushed to introduce nanoscience and engineering  at the K-12 level as a way of sparking excitement about studying STEM.
To assist this effort, NBC Learn and the National Science Foundation have teamed up to produce Nanotechnology: Super Small Science. The five-minute videos are available for free on the NBC Learn and NSF websites. One features researchers discussing nanoscale coatings that can protect steel bridges from corrosion. Another explores the nanotechnology in smartphones.
The video series is just one example how the National Nanotechnology Coordination Office (NNCO) is promoting nanoscale science and engineering education across the country. Other activities include working with nanoHUB to develop a searchable database for nanoeducation; collaborating with a local school district to develop educational videos that were distributed nationwide (Innovation Workshop: Nanotechnology); providing guidance to students making animations about nanotechnology featured on Science Matters, Community Idea Stations; coordinating a growing, national Nano & Emerging Technologies Student Network; and providing outreach via presentations, workshops, participation in trade shows, and the administration of contests, including the "Generation Nano: Small Science, Superheroes" contest (deadline Feb. 2, 2016), EnvisioNano, and Tiny Science. Big Impacts. Cool Videos.
Three semi-finalists in the Superheroes competition will win a trip to the 2016 USA Science & Engineering Festival on April 16-17, 2016, in Washington, D.C., where they will present their entries and compete for cash prizes.
For more information about any of these activities or to share opportunities to advance nanoeducation, contact nanoed@nnco.nano.gov.
Filed under: For Teachers, K-12 Outreach Programs, Web Resources
Tags: Internet Resources, Nanotechnology, National Science Foundation, NBC Learn, STEM education, Teacher Resources, Tiny Science, Videos, Web Resources