Posted on
November 22nd, 2011
by ASEE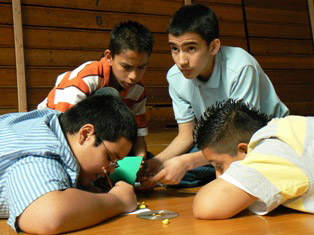 Mathematics, Engineering, Science Achievement (MESA) is a university-based outreach program operating in eight states. In Arizona, MESA strives to provide an opportunity for ethnic minority, low income, and first generation college-bound students to explore college majors and career interests with a group of peers interested in attending college. The University of Arizona supports MESA schools in Southern Arizona and works in affiliation with Arizona State University's Fulton Schools of Engineering to support MESA in central Arizona. The southern and central regions form Arizona MESA.
With the help of a volunteer advisor, MESA promotes a strong academic foundation in mathematics and science as the key to college admission and success. Hands-on activities and team competitions focused on mathematics, engineering, and science are highlighted in order to increase students' confidence in these areas. Other elements of MESA are listed below:
Hands-on math, science, and engineering exploration
College and career information
Role models from higher education and the business community
Special events including competitions, campus visits, and field trips
Peer group experiences to support college aspirations

MESA competitions, curriculum, and workshops are sponsored by ASU and AZ MESA. Individual teams pay only a minimal registration fee. Competitions are held twice a year at ASU and the University of Arizona. They include physics-related challenges like bottle rockets, egg launches, solar ovens, and catapults. All are designed to capture student imagination and encourage interest in STEM-related concepts.
Filed under: Grades 6-8, Grades 9-12, K-12 Outreach Programs
Tags: After School, Contests, hands-on activities, Minority Group Students, Programs for Students, Science programs